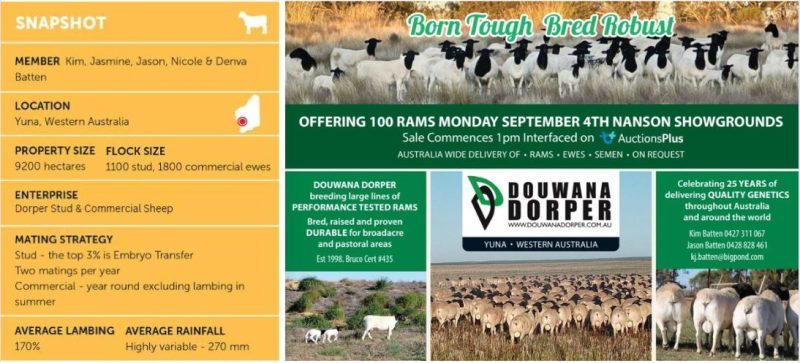 Douwana Dorper has a proud track record of producing a large number of high quality Dorpers, and proven they can adapt to all conditions both in Australia and around the world. From the first import of embryos from South Africa in 1998, Douwana has utilised the strength of the breed and adapted our Dorpers to better suit the low rainfall Australian market.
Douwana Dorpers are bred on a mixture of regenerative native grasses and bushland, travel long distances to water at troughs from underground bores as well as chase the best feed. We see it as a real bonus for our clients that our Dorpers inherently travel these long distances.  "It's really important because Dorpers are best suited to producing a high-quality lamb in low rainfall areas, so we have built our stud around this," the Batten family said. "After 25 years of breeding Dorpers we are still so excited about the future of the breed.
They naturally adapt perfectly to our system, their unmatched ability to convert low quality feed to a high-quality product while being soft on our country gives us great faith that where ever our Dorpers go they will thrive and provide a sustainable sheep farming enterprise. With the use of progressive technology we have a full flock DNA profile, and the enthusiasm to continue to build on our strong base.
We look forward to providing clients with the opportunity to produce sustainable premium lamb with high lambing percentage. We have made so many Dorper friends along the journey and look forward to meeting many more."
2023 DSSA Journal, Page 29
CLICK HERE TO DOWNLOAD YOUR FREE DIGITAL COPY OF THE 2023 DSSA MAGAZINE!