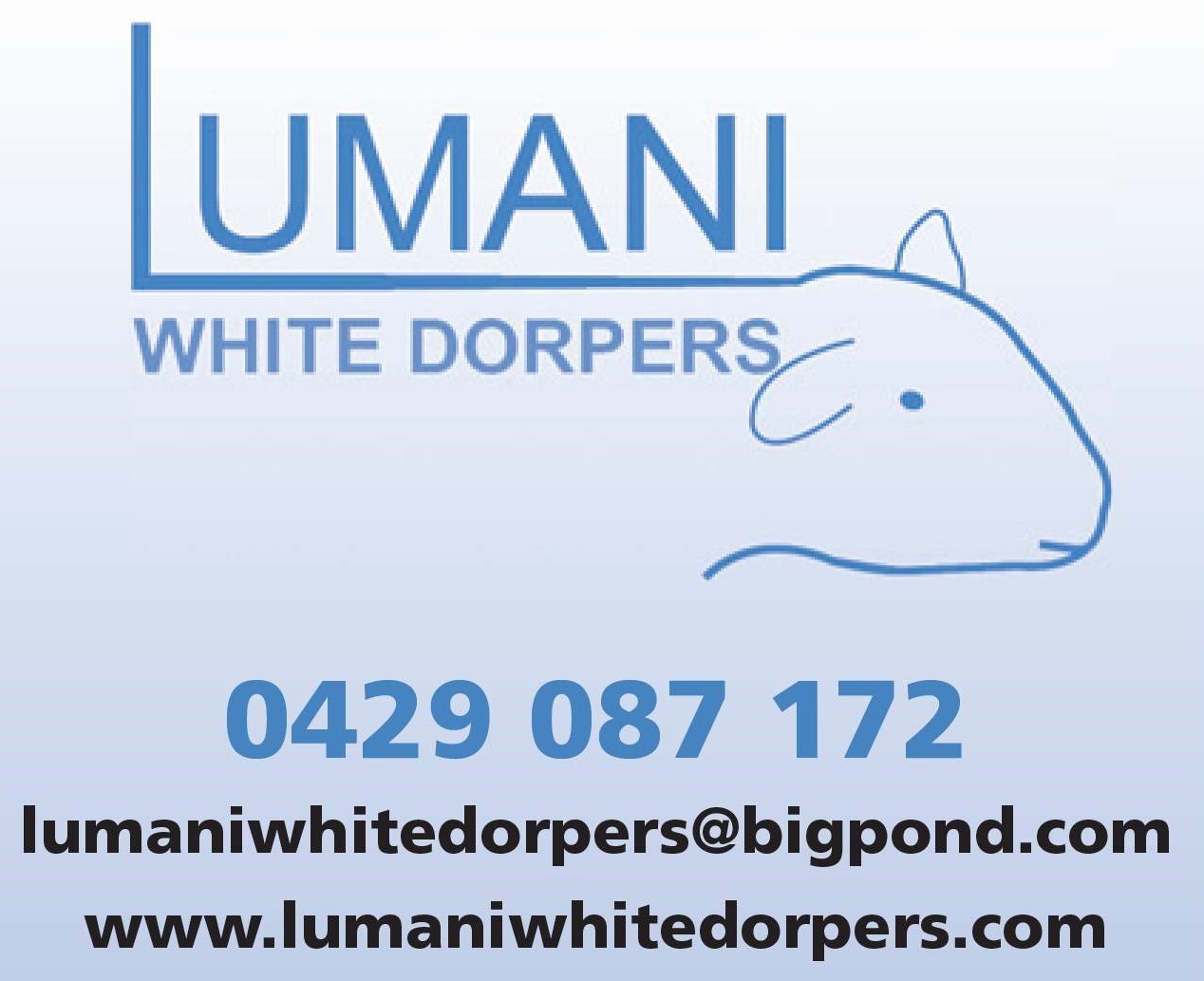 LUMANI WHITE DORPERS WD682
NEAR LANCELIN WA
Ref: WA412
Date Listed : 31.08.2018

WESTERN AUSTRALIANS – SEPTEMBER to DECEMBER 2018
40 White Dorper Rams available for on-farm sales – on JJs Farm, between Regans Ford & Lancelin
Most $770-$1100 with some specials $330-$550
A small number of higher priced elite rams also available
Brucellosis accredited, Dermatosparaxis free; Performance tested with Lambplan figures
Contact Jill on 0429087172 or lumaniwhitedorpers@bigpond.com for more information or see our website at www.lumaniwhitedorpers@bigpond.com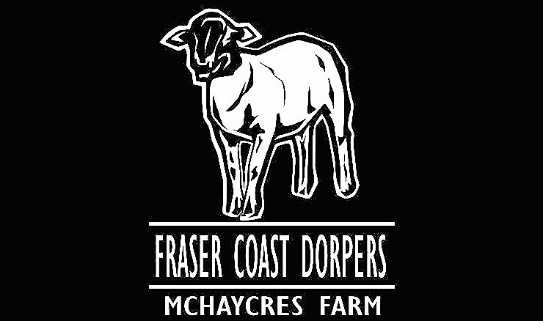 McHAYCRES FARM D1022
HERVEY BAY QLD
Ref: QLD410
Date Listed : 27.08.2018

WANTED TO BUY
Fraser Coast Dorpers, McHaycres Farm – D1022 located in Hervey Bay Qld, is looking to secure 200 commercial dorper breeding ewes.
50% to be proven at lambing, with the balance 50% ready to join.
We are looking for high breed standard conformity, particularly
o Sound feet
o Strong shedding
All stock must be up to date with, drenching and vaccinations and meet all Queensland Bio Security requirements.
Expressions of interest are sought, detailing quantity, age, location asking price and transport options.
Please contact Andrew Hay at Fraser Coast Dorpers, on 0428 328 487 or email mchaycres1@bigpond.com JABBOK WD376
MONARTO SA
Ref: SA409
Date Listed : 21.08.2018

WHITE DORPER RAMS for sale
2017 drop x 6 – $600 ono.
Reg. sires x 2 – $500 ono.
Ewes available on request (2017 and 2016 drop)
Stock from type 4 and 5 ewes and rams.
Good shedding, conformation and temperament.
Bruc Acc 1209; Dermo free.
GST not applicable.
Barbara or Cate – Monarto SA: 0407 344 173 RED ROCK WD143
KEITH SA
Ref: SA408
Date Listed : 15.08.2018

RED ROCK AND EDSON LIVESTOCK ON PROPERTY SALE
Friday 28 SEPTEMBER 2018
1.00pm South Aussie time
Interfaced with Auctionsplus Inspection from 10am
Lunch Provided
3% rebate to outside agents
100 White Dorpers
20 Dorpers
Landmark Keith: Noel Evans 0497 857 132
Elders Keith: Steven Doecke 0427 817 323
Bradley Edson: 0428 565 067
Tanya Edson: 0409 565 062
www.redrockwhitedorpers.com.au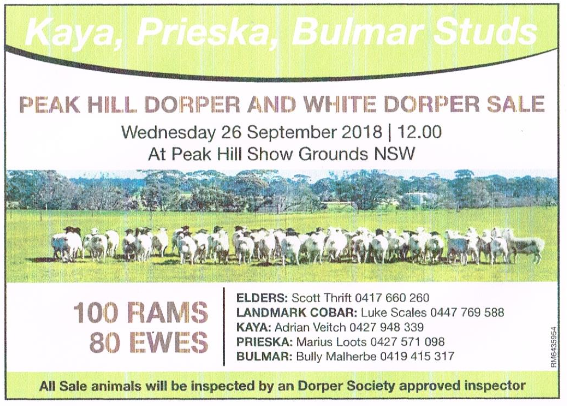 PRIESKA KAYA BULMAR
PEAK HILL NSW
Ref: NSW407
Date Listed : 31.07.2018

PEAK HILL DORPER AND WHITE DORPER SALE
WEDNESDAY 26 SEPTEMBER 2018 12.00pm
AT PEAK HILL SHOW GROUNDS, NSW
130 RAMS
80 EWES
ELDERS: Scott Thrift 0417660260
LANDMARK COBAR: Luke Scales 0447769588
KAYA: Adrian Veitch 0427948339
PRIESKA: Marius Loots 0427571098
BULMAR: Bully Malherbe 0419415317
All Sale animals will be inspected by an Dorper Society approved inspector.
SPRING FARM DORPERS D716
SPRINGTON SA
Ref: SA406
Date Listed : 24.07.2018

Must be sold; 12 Dorper rams available now, all from Type 4 and Type 5 sire and dams, with genetics from Kaya and Amarula. Robust, large frame, good length, good twining and excellent growth rates. Our average price for rams is $1000-$1200. These rams are available @$550 as we have our next drop of rams on the ground.
Spring Farm is Johnes MN3 status and Brucellosis accredited.
Great muscling, conformation and shedding. "Bred to Deliver".
Contact Richard: 0428 606 420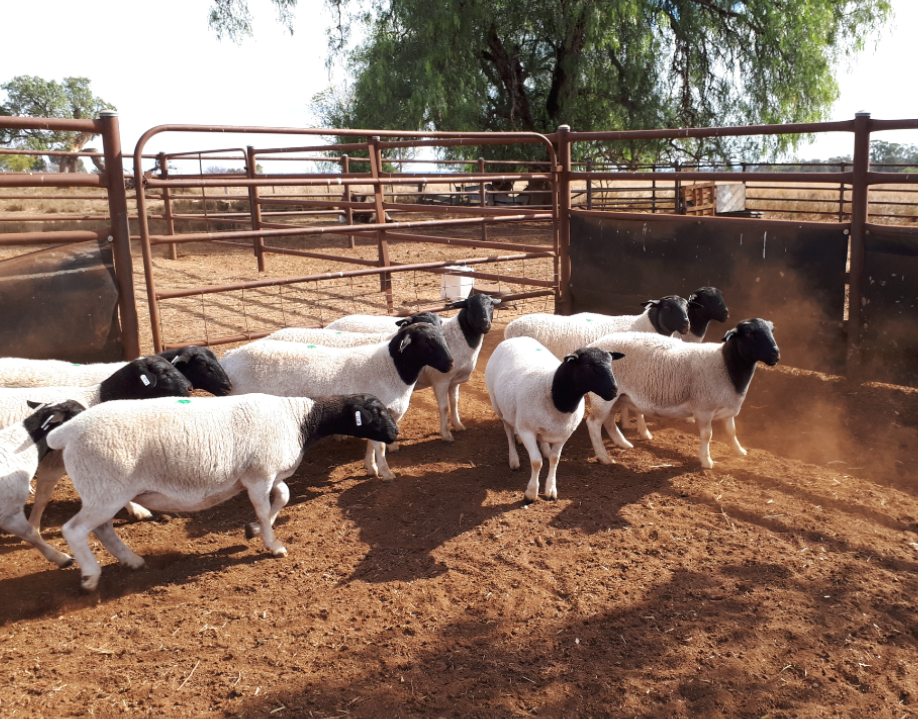 PARREE D081
NSW
Ref: NSW410
Date Listed : 12.07.2018

PARREE STUD DISPERSAL SALE. Brucellosis No: N 01/13
PROPERTY FOR SALE. Near Inverell NSW.
Almost 20 years of breeding and the last part of our reduction sale is here. The final dispersal lots, buy a few or buy the whole stud, last chance.
66 Dorper Stud Ewe's with Lambs at foot. Ewe's are 2013 – 2016 Drop. Lambs are May/June Drop, lambs are marked, tagged and vaccinated. Lambs are by 3 different Stud sires, PARREE 150964, PARREE 150909 and TUCKEROO 160050. Price is $350 per Ewe and Lamb unit.
37 Dorper Stud Ewe's. 2013 – 2016. Due to start Lambing 25 July. In lamb to Stud Sire TUCKEROO 160050. Price is $350 each.
38 Dorper Stud Ewe's. 2017 Drop. Not Mated. Price is $400 each. Sires include PARREE 150964, PARREE 150909, PARREE 140767, AMARULA 144453.
OR buy all the Ewe's as one lot for $45,000.
30 Dorper Rams. 2017 Drop. Sires as above. Price is $600 or $800 each.
2 STUD RAMS for sale. PARREE 150964 and TUCKEROO 160050. Price Negotiable.
All prices plus GST.
PHONE: 02 6725 1484 If unanswered, please leave a message and we will get back to you asap.
OR contact Paul on 0458 519 946 or parreedorpers@gmail.com DORPER STUD PARK D227
WA
Ref: WA407
Date Listed : 14.05.2018

Established 2005 in Western Australia
Stud owner retiring mid 2018
Offering entire stud flock complete as one lot.
A rare opportunity to jump start your stud breeding with genuine top quality animals or add to existing flock with this proven small stud complete with genetics already 'set'. Perfectly prepared to tap into the lucrative export breeder programs (see website)
150 full blood breeding ewes. Excellent quality ready to join now.
20 full blood stud sires. Excellent quality ready to go now.
Check Investment at $410 average/head + GST. No dispersals.
Ovine Brucellosis accredited, Ovine Johnes tested negative.
Closed flock since 2006. Strict property biosecurity plan.
For more information please email dorperstudpark@bigpond.com
Or call 08 9853 1116 or 0402 203 536
More details on the website www.dorperstudpark.com.au SUNDRIDGE WHITE DORPERS WD505
NORTHAM WA
Ref: WA505
Date Listed : 09.04.2018

40 Purebred White Dorper ewes for sale.
20x 2016 Ewes – classed type 3 and 4.
20x 11 Month 2017 ewe lambs.
All pedigree and eligible for registration with the Dorper Society. Clean shedding, good conformation and good feet. Kaya and Saxon Downs genetics. Reluctant sale, but need to reduce ewe numbers.
Sold as one lot $250.00 per head plus GST ($10,000 plus GST)
Sold as individual 2016 Type 3 Ewes $275.00 plus GST, Type 4 Ewes $325.00 plus GST. 2017 Ewe lambs $300 plus GST.
Contact: 0417177038 ARCADIUS D091 WD147
CURRENCY CREEK SA
Ref: SA407
Date Listed : 23.04.2018

16 Dorper Ewes (13 @ 9 months, 3 @ 6 months)
Excellent shedding, Kaya & Amarula bloodlines.
$220.00 each incl. ono
5 White Dorper Ewes (3 @ 9 months, 2 @ 6 months)
Excellent shedding, Terraweena & Kaya bloodlines.
$165.00 each incl. ono
6 Weaner Dorper Wethers $55.00 each incl.
Dorper & White Dorper Rams also available form $440.00 each incl.
Flock Brucellosis accredited.
Contact Cathy: 08 8555 4186
BOONDARRA WD1093
ROMA QLD
Ref: QLD403
White Dorper Stud Ewes For Sale:
35 White Dorper 2011-2014 Drop. Due to start lambing 10/03/2018 from Kaya Type 5 Rams, 4 lambs at foot
20 White Dorper 2016 Drop. Due to start lambing 10/03/2018 from Kaya Type 5 Rams
23 Ewe Lambs 2017 Drop. Ready to join.
$ 23,000 + GST for all.
Contact No: 07 46265451