ARCADIUS WD147
CURRENCY CREEK SA
Ref:  SA449
Date Listed :  6.01.21
Situated Currency Creek, approx. 1 hour south Adelaide
Genuine dispersal of Arcadius White Dorpers
Stud was established in 2000
The majority of the flock was sold in 2018 due to the seasonal conditions. A handful of the best sheep were retained.
This small group would make an ideal starter stud or compliment an existing stud. Sheep are of high quality with plenty of style and excellent conformation.
Breeding is based on Terraweena and Kaya bloodlines.
Flock is Brucellosis accredited and OD negative.
Consisting of : 1 Stud Sire WD147 188030
1 2019 Ram ( not yet Reg)
6 Mated ewes WD114 180810
WD147 166029
WD147 177024
WD147 188046
WD147 188072
WD147 199012
3 Weaner ewes WD147 000035
WD147 000036
WD147 000037
Selling due to the sale of the property I have agistment on.
Priced at $4150.00 + GST neg.
Contact Cathy on 08 8555 4186 or email arcadiuslee@skymesh.com.au
BELOWRIE WD854
DUBBO NSW
Ref:  NSW448
Date Listed :  26.11.20
Limited number of Semen packages available from 160020.
160020 is the sire of Belowrie Bentley, who sold for $21,000 at the 2020 National sale. This was the first drop of sale rams from 160020. There were only 11 rams by 160020 born in 2019 and 6 of these made our National sale team and averaged $6780. This is an outstanding result and he is producing very consistent types.
He also came 3rd in the 4 tooth and over class at the Nationals, behind our other stud sire and was the 2018 Eastern region champion.
Note: Some images shown here are of progeny from 160020.
Click here to view more videos and photos on the Belowrie Facebook page.
7 packages available 30 straws in each, $1980 inc. freight/ storage extra.
Stored at Apiam Genetics Dubbo.
Contact David Piper on 0447 840 333
JABBOK WD376
MONARTO SA
Ref: SA447
Date Listed :  10.11.20
Rams for sale (2018 and 2019 drop)
Full bloods from Type 4 and 5 ewes.
Clean shedding.
Good conformation and temperament.
Bruc. Acc. and Dermo. free
From $800 each.
Contacts:
Barbara or Cate Stokes, 0407 344 173
or Nutrien Ag Mt Pleasant – David Schultz, 0408 816 943
– Ashley Fawcett, 0439 131 925
IRON ROCK WD1028
MURRINGO NSW
Ref: NSW446
Date Listed :  10.11.2020
2x Commercial and 4x stud rams
AI Kaya and Burrawang blood lines
Rams weight from 88kg to 100kg
Some 2018 drop used rams and 2019 drop for sale.
Prices $1000 to $1200
Contact Jan Myburgh on 0449 868 200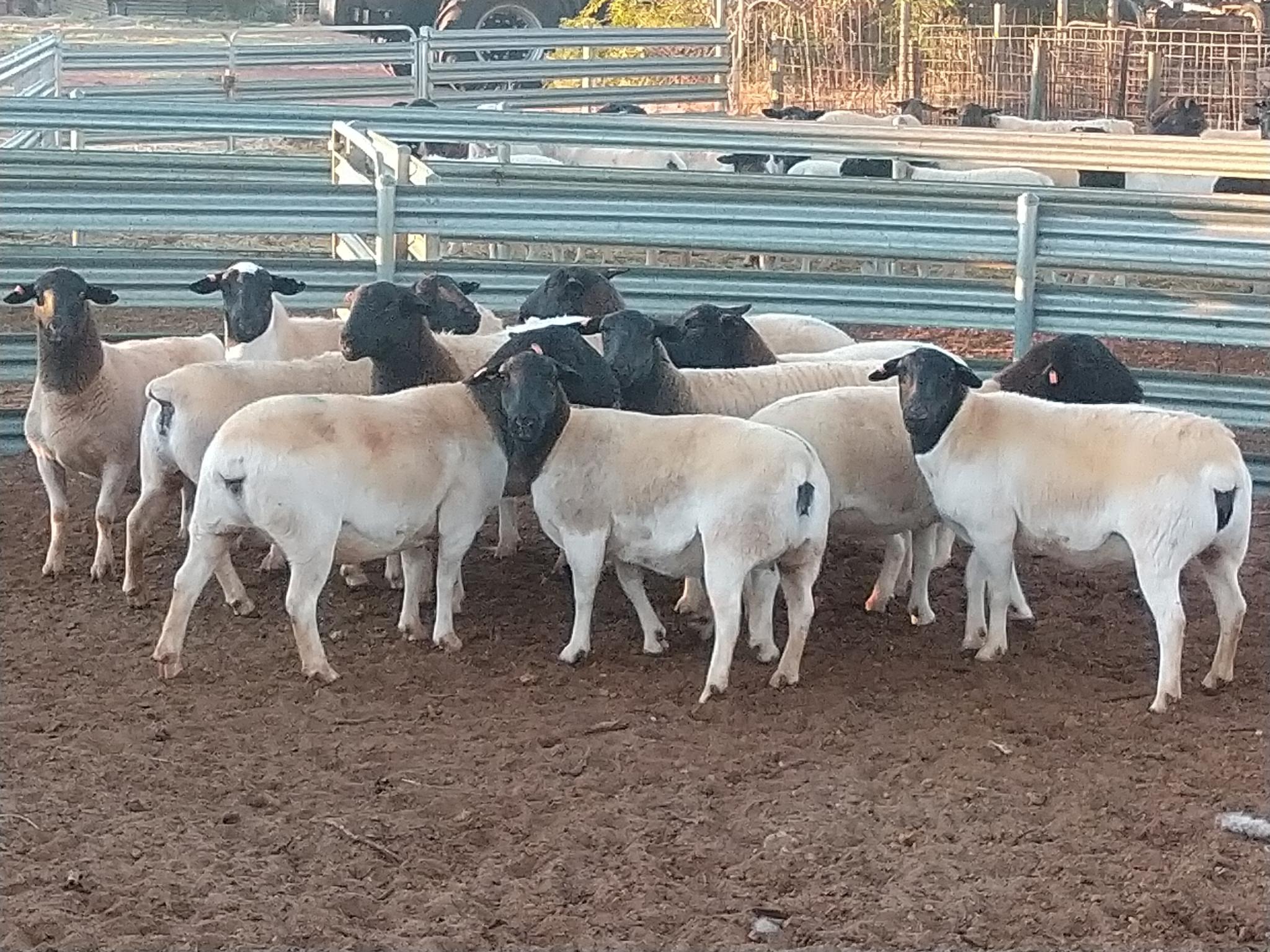 DOUWANA D048
YUNA WA
Ref: WA445
Date Listed :  27.07.2020
2-4 Year old ewes
50 Available
$300 – $500
Contact Kim Batten 0427 311 067 or email kj.batten@bigpond.com