AUSKAPE D656
BATHURST NSW
Ref: NSW422
Date Listed :  21.03.19

Priced to clear from $100 or abattoir price approx $2 to $3.50 per live kilo to $400.
Proven older stud ewes sold on offer to good home.
40 STUD EWES 2 TO 7 YEARS OLD
60 COMMERCIAL EWES 2 TO 5 YO
10 RAMS STUD AND COMMERCIAL 9MTHS TO 3 YOS
40 LAMB EWES AVE 9MTHS
10 LAMB RAMS AVE 9MTHS
KAYA, WINRAE ORIGINAL BLOODLINE, MICKEY PHILLIPS, WICUS CRONJE, ROYALLA, NETANYA AND GLOBAL STUD RAMS USED
Contact Rick Matthews 0428 318 937
BURRAWANG WD179 D638
CONDOBOLIN NSW
Ref: NSW421
Date Listed : 08.03.19
Burrawang Stud Ram Sale March 18th
Burrawang Stud Automated Feedlot Open Day March 17th
All welcome to the Burrawang Stud Ram Sale (18 March) and Automated Feedlot Open Day (17 March).
STUD RAM SALE:
Monday 18 March, 11am start, Burrawang West Station, Mulguthrie Rd, Ootha, NSW
Our stud ram sale features 100 cracker Dorper and White Dorper Rams
The catalogue will be available on our website Saturday 9 March
Photos available 13 March
AUTOMATED FEEDLOT OPEN DAY:
Sunday 17 March from 2.30pm till 5pm, Burrawang West Station, Burrawang West Rd, Ootha, NSW
✅ Learn about the construction process here 
✅ Learn from our feedlot nutrition specialist
✅ See the advantages of automated feeders with Feedtech Feeding Systems on site to discuss their 50metre Feedtech Auto Sheep Feeder
✅ See how The Shepherd Auto Feeder provides producers with greater control over their feeding program
✅ Talk to our construction team about the construction work
Want more info? ☎Mal Brady 0428500027
You can also follow us on Facebook, Instagram and Twitter for the latest information. See you then!
The Burrawang Team 157 straws for free
Ref: NSW422
Date Listed : 12.03.19
All you have to do is take over the Apiam genetic services account.
Next payment will be due in July approximately $94.20.
White Dorper Ram Type 5 breed by Darling Downs and purchased by TopChop.
White Dorpers registration WD 278 110164.
Eye muscle ready when originally purchased from national sale in 2013 was
52mm. Was numerous rams with em reading from 48-51mm.
Futher details contact Carl Press 0427010687 pressy@bigpond.net.au
DAVEMM HILL WHITE DORPERS WD359
PINELANDS QLD
Ref: QLD420
Date Listed : 30.01.2019
WD359 was established in 2007, we hit the show ring in 2008 and have loved it ever since but after 12 years in the stud game we are hanging up our boots! We will still be breeding dorpers but heading down a different path.
Expressions of interest are invited from interested parties. We are offering the name, the prefix and our award winning and extremely fertile genetics. Your choice of our top 20 ewes and 8 rams.
Ewes on offer will be from 2014 – 2017 drops including National Show winners of their class and champions from 2015 – 2018. Rams are from 2017 & 2018 drops.
We will consider selling individually but would prefer to offer the stud as a whole. Price will be realistic considering these very dry times.
Only genuine enquiries please.
Donna & Stephen Emmerton
DAVEMMHILL WHITE DORPERS WD359
W: www.davemmhill.com.au
D: 0419 787 114
S: 0418 897 578
SALTBUSH WD021
NEAR PORT AUGUSTA SA
Ref: SA419
Date Listed : 07.12.2018
FOR SALE
60 2017 drop White Dorper Rams available for private selection
12 – 16 months old; $800-$1200
LAMBPLAN figures available on all rams; many trait leaders (top 10%) for weight gain, eye muscle area, number of lambs weaned and Maternal Carcase Production index
All clean shedders and sound feet
Brucellosis accreditation SA1257
Contact Jamie on 0428 422 380 or Anne on 0427 486 115
jamie@saltbushlivestock.com.au
www.saltbushlivestock.com.au/stud
Full listing available at http://sgsearch.sheepgenetics.org.au/Sales/ShowCatalogue.aspx?CatalogueId=6448
TUERONG PARK D1091
TUERONG VIC
Ref: VIC418
Date Listed : 28.11.2018
DORPER RAM $1000
DOB 16.06.2016
Stunning ram from Roslynmead & Dell bloodlines. Good shedding, temperament, and confirmation. Has produced some beautiful lambs, twins and triplets. Open to reasonable offer.

Contact: Luke Weekley 0414 650 648
Email: luke.weekley@gmail.com SMIT DORPER D536/WD536
ROMA QLD
Ref: QLD417
Date Listed : 16.11.2018
34 White Dorper ewes  $ 6600
and 31 WD ewes plus 34 lambs at foot  $ 6600
Dorper ,37 ewes with 54 lambs at foot $8250
Dorper,34 ewes $7260 Ages from 1 to 7 yrs
The whole stud of 996 animals for $385,000

Contact: Tel 07 46265451
Email: landesmit@yahoo.com.au JABBOK WD376
MONARTO SA
Ref: SA415
Date Listed : 22.10.2018

White Dorper RAMS and EWES for sale
4 No. Rams (1 x 2015 drop; 3 x 2017 drop) available for $600 ea.
20 No. Ewes available as follows.
– 3 No. Type 4 ewes, 2015 drop for $300 ea.
– 7 No. 2016/2017 drop ewes for $250 ea.
– 10 No. 2018 drop ewes for $250 ea.
Price negotiable for the lot.
Good shedding, temperament and conformation.
Bruc. Acc No. 1209; Dermo free.
GST not applicable.
Monarto South Australia
Contact 0407 344 173 (Barbara or Cate)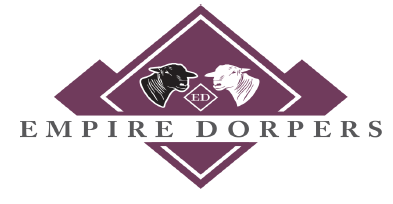 EMPIRE DORPERS D923
NORTHAM WA
Ref: WA413
Date Listed : 02.10.2018

Saturday 13th October 2018
On Property Private Ram Selection Sale – Individual appointments available to view & select your rams. Over 40 rams on offer with a selection of both Black Tag & White Tag Dorper Rams.
Private appointments for Ram selection & purchase
Book now to secure your time slot – limited times available from 9am onwards
Phone Adam or Michelle to arrange your time PH – ADAM: 0448 811 972 MICHELLE: 0427 227 118
EMPIRE DORPER STUD D923 Clackline NORTHAM WA 6401