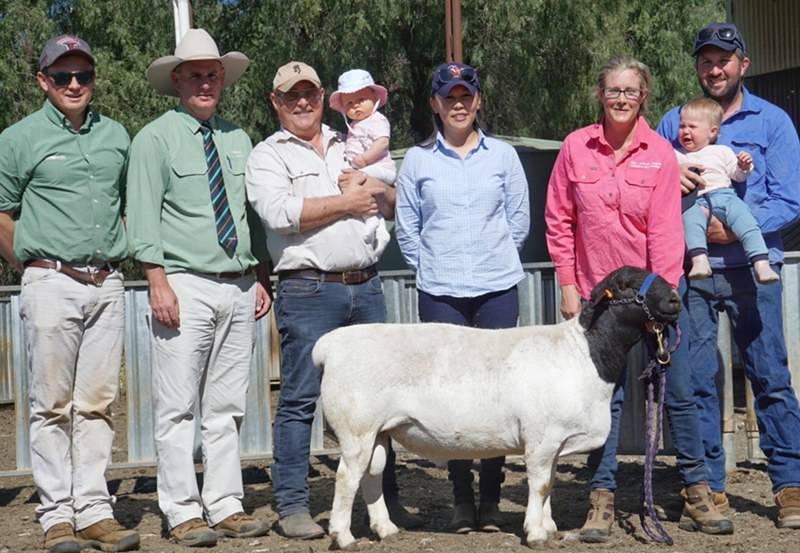 INTERSTATE buyers from Western Australia and South Australia were among the producers to take home Dorper and White Dorper rams from the Dell African Dumisa stud sale last week.
The Thyra, NSW, stud, north of Moama, NSW, sold 71 rams with three passed in and had 33 registered buyers at its sale last Tuesday.
"We were really happy with the sale because we were only expecting a 50 per cent clearance rate," stud principal Andrea Vagg said.
"A majority of the country up north where the Dorpers tend to go, around the Bourke and Wentworth areas, have had no rain."
The stud sold 48 of 49 Dorper rams to $5000, averaging $1713 and 23 of 25 White Dorper rams to $2400 with an average of $1186.
Dell African Dumisa also sold 24 Dorpers ewes to $1500 with an average of $727 and 14 White Dorper ewes to $1050, averaging $739.
Six rams went to Adam and Michelle Donegan, Northam, WA,who also purchased one five ewes.
Mrs Vagg said the sale grossed the same on the previous year's sale.
"The ewe flock nationally for Dorpers is down but they are more suited to drought," she said.
"It has had an impact on the demand for rams more generally because we've found buyers are more fussy with quality but we've had our sheep classed and the quality is up."
Return client Bruce Williams, Karra Station, Balranald, NSW, bought 20 Dorper and White Dorper rams while Allan Crozier, Marfield Station, Ivanhoe, NSW, bought eight White Dorper rams.
Click here to read the full story by Bryce Eishold for the Stock & Land.