Training for members on the breed/breed standards
Providing members access to training workshops to build their knowledge and maximise their ability to breed quality and high performance dorpers and white dorpers and contribute to the success of the breed nationally is an important priority for the DSSA. Training in the breed standard and the'typing' system is seen as an important part of this role.
The attributes of the breeds have been developed and refined through careful analysis and selection over 80 years. The knowledge accumulated through that time, including links between important physical traits of animals and their ability to thrive, reproduce and to produce a quality carcase, even in suboptimal conditions is reflected in the breed standards.
Training involves 4 day highly practical hands on courses that enable participants to gain a strong ability to recognise desirable and undesirable characteristics in individual animals and to gain a good understanding of the 'typing system' and how it can be used to improve your selection of animals. Breeders are encouraged to utilise objective management to select for performance traits and to be guided by a sound knowledge of the visual traits important for functionality and soundness.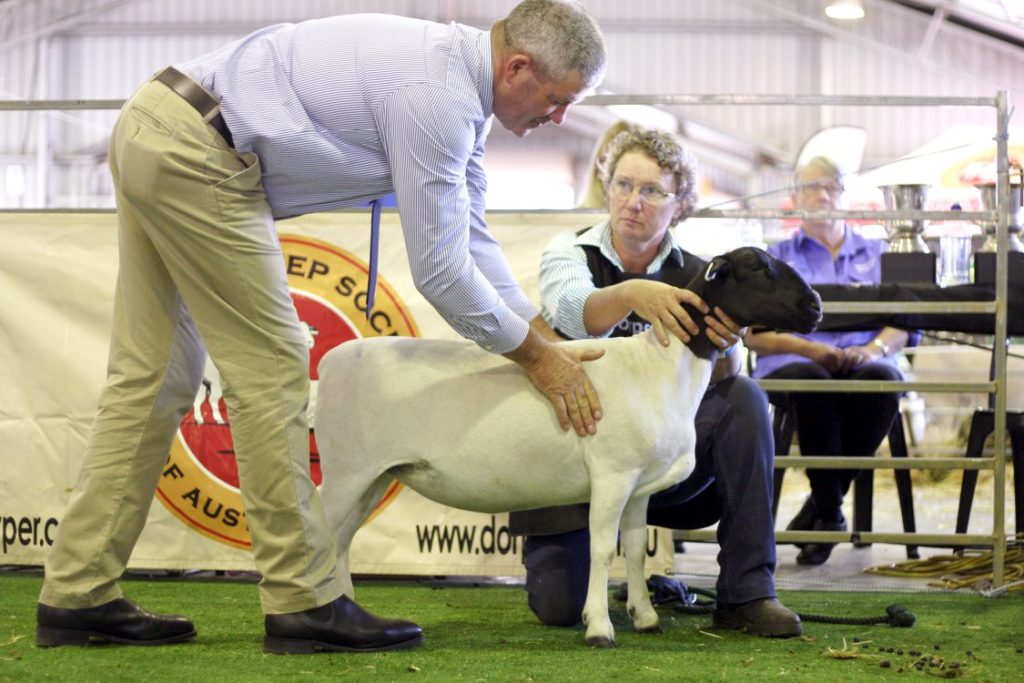 Inspectors
Before being considered by the Board to become an Inspector, the applicant must first satisfactorily complete a Junior Course, 2 Senior Courses and either 2 Judges exams or more recently 1 Judges Exam and a series of inspections with different already qualified and experienced Inspectors.
The Dorper breed has an internationally recognised breed standard based on visual assessment. (Refer to "Breed Standard Guideline" in About Dorpers). Members who have completed a rigorous program of training and achieved the strictly enforced level of performance may be approved as Inspectors by the DSSA Board.
Typing System
The system underpinning the evaluation of the 'Type' of adult sheep against the bred standard for the Dorper and White Dorper breeds has received acclaim in Australia and around the world.
The visual assessment that Typing of Dorper sheep is based on scores Conformation, Growth, Fat Distribution, Cover and Colour with these scores contributing to an overall grade, called the 'Type'.
Type 5 (T5) – (STUD) is a superior, elite animal
Type 4 (T4) – (STUD) is a very good animal
T5 and T4 'Stud Quality' animals are tagged with a white 'Stud' tag.
These inspectors are available to Type and tag member's sheep against the breed standard and this information can be linked to the registration of the individual animals.