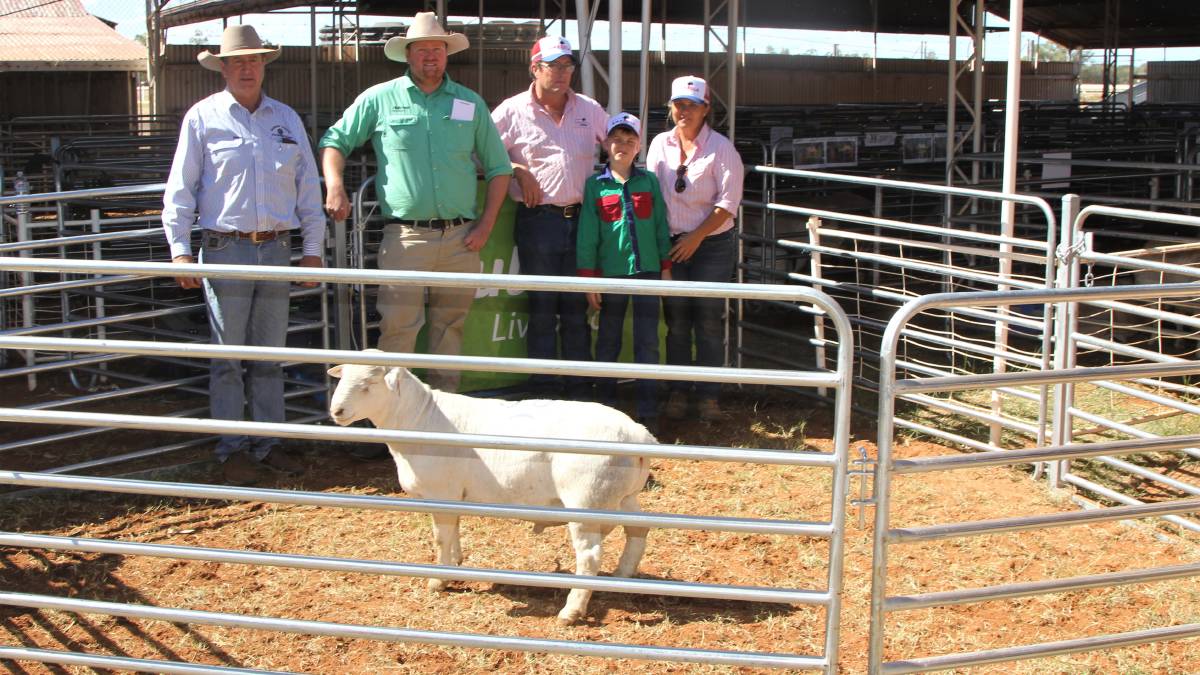 The five vendors selling at the postponed Charleville Dorper and white Dorper sale on Tuesday left with big smiles after buoyant prices were paid and all lots were cleared.
There were 25 bid cards registered from as far south as Ivanhoe in the far west of NSW, north to Tambo and east to Roma, and purchasers paid an average $3075 for the 96 lots on offer.
The sale was originally set down for late March and Lorroi Kirkby, speaking on behalf of the Amarula stud based at Moree, said their rams had put on another 10kg in the weeks since then.
"It shows how well they do," she said.
They received the top price for the sale, $6600 for Amarula 201593, a 10-month-old twin white Dorper sired by Nomuula Lowie 170275, who was purchased by Jeff Betts, Chelmer, Thallon.
Amarula's Lorroi Kirkby said they'd purchased him in partnership a few years ago and he'd meshed in well with their ewes.
"He's an outstanding sire – we're using his sons at home too," she said.
His genetics were obviously sought after by the breeders present – the Betts family also paid $6000, $5800 and $5200 for three more of his sons, while L and L Jukes, Tregonning, Morven outlaid $5000 and $3600.
Augathella's Lionel Smith, from Buckey's Creek, bought two by the same sire for $4200 each.
Justin Kirkby described it as an awesome sale, saying the commercial buyers had really lifted their sights.
"Some of our clients here today were paying $1000 a few years ago," he said. "Demand is really outstripping supply at the moment."
Flashback: Inaugural Charleville Dorper sale a winner
Mr Betts, who bought the rams sight unseen, said he had let his ram supply run down during the drought and was now trying to build back up quickly.
"They were expensive rams but I missed out at a few other sales and I thought I needed to get in before they were all gone," he said.
Explaining his preference for the white Dorpers, he said that was what he'd chosen when they moved out of Merinos 15 years ago.
"I don't think there's any difference between the Dorper and the white, it was just hard coming from that background to go into the black face ones."
A top price of $4200 was paid by two breeders for the Dorper rams on offer.
Click here to read the full story by Sally Gall for the Queensland Country Life.