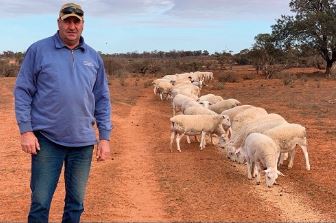 Making the switch from woolgrowers to prime lamb production has been a success for John and Leanne Clothier and their three children Sarah, Emily and Megan at Polia Station, via Pooncarie, New South Wales.
The couple made the switch to White Dorpers in the early 2000s after ongoing years of poor wool prices and drought and haven't looked back.
Soon after, they also made the shift to running a certified organic sheep and lamb operation, having produced opportunistic organic crops on the lake beds of the Darling Anabranch System for the past 24 years.
"Our organic cropping system is entirely opportunistic," John said.
"We wait until it floods then when the waters recede, we can crop. We don't use any inputs and have grown export quality oaten hay, wheat, barley, canola and spelt in the past.
"I use my own equipment to seed, then get someone in to harvest, but it's been a few years now since we've last been able to crop."
John said making the switch to producing organic lamb was definitely very beneficial early on, with premiums of about $1 a kilogram.
"In the past few years premiums have slipped back to 20-60c/kg," he said.
"It still definitely gives us marketing options, but now we don't sell everything into the organic market, we'll consider all the grids and sell where we get the best price at the time."
John said the Dorpers were very well suited to the Western NSW region.
"The front of our property overlooks the Darling River with the Darling Anabranch at the back," he said.
"We vary from black soils to bluebush, saltbush open country.
"The Dorpers are very good doers and are very fertile, they'll just keep producing lambs no matter what the season, which considering how dry it's been is a real bonus.
"Processors and agents are also very happy to buy them, as they perform very well on-hooks and in the boning room."
Click here to read the full story in the 2019 DSSA Magazine.
(Advertisement below is not linked to story)