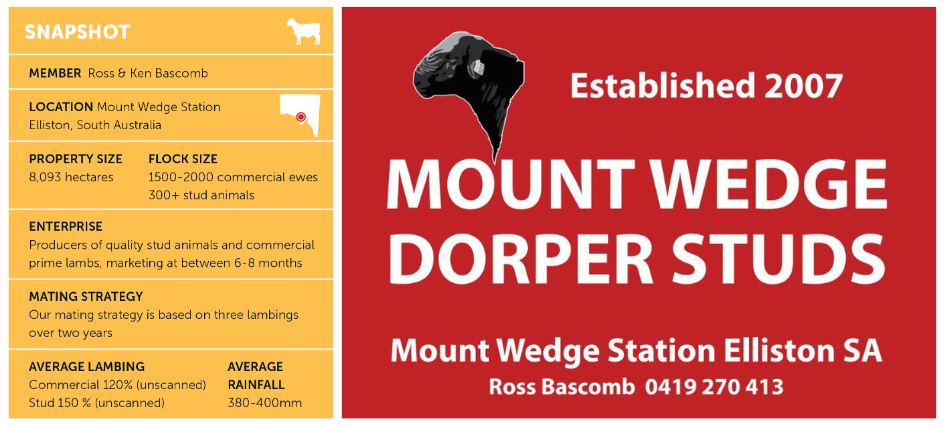 Mount Wedge Dorpers are "station rams for station owners" and perform according to their upbringing in some of the most marginal country in Australia, on the Eyre Peninsula.
The idea of Dorpers was first mentioned by a then 13-year-old Ross Bascomb in 2006 after learning of their shedding ability among other appealing qualities.
Mount Wedge Dorper Stud was established shortly after in 2007, with the support and encouragement from Ross' father Ken Bascomb. The stud was originally established to improve the Mount Wedge commercial flock, with a focus on heavy bone/muscle, fertility, walking ability along with strong heads and jaws for grazing scrub and low value feed.
All animals are independently and carefully classed by Wicus Cronje, stud master at Burrawang Dorper Stud, where the Bascombs have been purchasing rams for the last four years.
"Wicus has had a very positive impact on our stud and his passion for Dorpers is infectious," Mount Wedge stud manager Ross Bascomb said.
The Dorper breed has exceeded all the Bascombs' expectations and outperformed other self-shedding breeds, especially during less than ideal seasonal conditions during 2006 and 2007. The Dorper more than proved itself throughout such conditions, being able to withstand the harsh environment of South Australia's Eyre Peninsula region.
Mount Wedge Dorper Stud's ongoing focus is to breed quality rams for station owners. This includes rams that perform and hold their frame whilst in working conditions, that produce solid lambs for the truck and that breed true to type, allowing customers to retain plenty of replacement ewes if needed.
Mount Wedge Dorper Stud breeds specifically for these attributes as it is the quality they strive to see in their own paddocks and it makes sense financially.
2023 DSSA Journal, Page 43
CLICK HERE TO DOWNLOAD YOUR FREE DIGITAL COPY OF THE 2023 DSSA MAGAZINE!