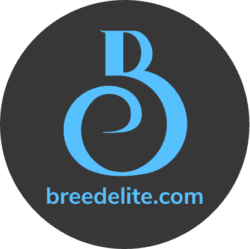 The 2024 Guide To Electronic Tagging for Aussie Sheep Farmers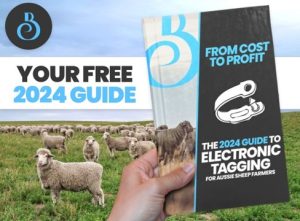 To help you prepare for mandatory electronic tagging, and more importantly, help guide you on how to turn electronic tagging from a cost into an investment that pays off every year, Tim and the team from BreedELITE have started a free series helping farmers navigate the technology so it can start making you money, and quickly.
The most recent guide "The 2024 Guide to Electronic Tagging for Aussie Sheep Farmers" has just been released. In this Guide, Tim expands on the basics and demonstrates how electronic tagging can propel your meat flock to greater success, focusing on data measurement and using current case studies and research as examples. Inside this free document you'll learn:
What makes up EID numbers, how the tags work and details on the specific formats of NLIS devices and numbering
What the current 'state of play' across Australia is regarding subsidies and rebates to assist Aussie Sheep farmers with the cost of abiding by the mandatory requirements
The benefits of using electronic tagging for better individual sheep management and performance-based culling within your meat flock, using a recent study on subjective versus objective classing as an example
How electronic tagging can make your meat flock more profitable, demonstrated with specific economic objectives and parameters important to meat producers
How you can use the data you collect to improve the quality of your flock over time, with specific examples
Plus, you can read about fellow producers who have already embraced the technology and are reaping the rewards with better returns, flock quality and ultimately more money in their pocket.
4-Part Webinar Series for DSSA Members
Tim from BreedELITE and DSSA are currently hosting a 4-part Webinar series to help give Dorper breeders advice and ideas on how to build a simple and profitable sheep technology system that gives you more control, better decisions supported by your data, and labour savings, all of which are important in these challenging times.
With meat prices plummeting and a potentially tough season ahead in many parts of Australia, many farmers are looking at their forecasts for the next year and are justifiably anxious about the future. In this series Tim will discuss ways to combat this using your data and how to simplify your current system and processes so you can save time, money and get a better output from your flock at the same time. A good system can't fix the market, but it can help you navigate it more profitably and come out the other side better than if there was nothing in place.
Session 1 began on October 10th, but you can catch the remaining sessions below:
Session 2: Deep Dive – Is the system easy to collect and use data?
When: 17th October at 7pm AEDT
Duration: 60 mins
In this webinar, Tim will talk about the simplicity of collecting data and how to use that data to accelerate your
enterprise ready for the market change. It's tough times and we are all feeling the pain and uncertainty of what's to
come but it's not too late to start now and be prepared. We will go under the hood of the BreedELITE Sheep System
with live demonstrations that work for both stud and commercial breeding operations.
Session 3: Are people like me getting the results I want?
When: 24th October at 7pm AEDT
Duration: 45 mins
In this webinar we will be "looking over the neighbour's fence". We'll be talking with BreedELITE Dorper breeders about
how they are using data and a sheep system to navigate and take control of the current market. Tim Johnsson and Mel
Pagett will discuss the top 5 use cases for your stud or commercial operation that you will benefit from and create an
open space to answer any questions or concerns that you may be facing in the industry.
Session 4: What's the future look like & how do I get involved?
When: 31st October at 7pm AEDT
Duration: 30 mins
In this final webinar, Tim will dive into where BreedELITE is going into the future with the Dorper breed, based on
development suggestions and needs from the past couple of years talking with DSSA Members. For those interested in
the next step, a special offer for DSSA webinar attendees will be available at the end of the webinar if you want to be a
part of that discussion.
Keep an eye on your emails for the links to join the Webinar sessions.
Hear from Dorper Stud Breeders, Stacey & Gary Cullinan, from NSW
Stacey & Gary Cullinan, Dorper Stud Breeders from NSW, are a great example of how improving data collection on their Stud has saved them time, improved the amount of information they now have on hand, and has even allowed them to join Sheep Genetics with a large amount of information recorded on each sheep.
Before working with BreedELITE, Stacey & Gary were trying to find a quicker and easier way to find the sheep information they needed to help with their Ram Stud Sale process and ewe selection.
They were struggling with a slow manual paper trail system, and needed a better way of collecting and using data on classing grades, traits, pedigree, lambing details and more.
Since starting with the BreedELITE Sheep System, they've been able to improve their data collection and pedigree tracking, access their stud information quicker, and have been able to join Sheep Genetics with a larger amount of information recorded on each sheep.
As Stacey & Gary say:
"With BreedELITE we've been able to access our Stud information in a much quicker way. We have since joined Sheep Genetics and have started to have a larger amount of information recorded for each sheep.
It was a slow paper trail for our Stud before we purchased BreedELITE. We had another brand wand that was doing what we thought was OK until we purchased the BreedELITE wand and software system. It is so easy and fast now to find a sheep and find its details.
The time we save now with BreedELITE has really exceeded our expectations. The yard work is the same, but now we don't have to come home and go over things in the office, as the system uploads the days' progress and saves everything for us.
We can find sires and ewes progress year by year, and have the information on hand.
Our Annual Stud Sale Day is also made a breeze now with the team at BreedELITE completing the Ram Sale Pen Cards.
You won't look back, and BreedELITE help you along the way!"
You can listen to more Stud breeders talk about their experience with the BreedELITE Sheep System here.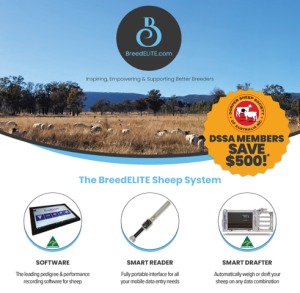 The BreedELITE Sheep System was established in 2015 with the sole purpose of helping Sheep Breeders remove the headaches that are inherent with Data, EID's and Technology, whether just starting out or feeling stuck along their journey.
After developing a pedigree and performance recording software specifically for Sheep Breeders that drastically simplified the process of collecting and managing data, Tim & the team identified that the key thing holding Sheep Breeders back was the complication of getting software and tech to work together, and then actually using the data to make decisions.
Turning technology from something that is accepted as the hard part of the job, to something that opens the doors of opportunity, BreedELITE is now working with hundreds of Stud and Commercial Breeders across Australia, including many of the industry leaders.
As a DSSA Member, get in now to get your $500 discount on the BreedELITE Sheep System!
Find out more here or give Tim at BreedELITE a call on (08) 8382 4565 or email hello@breedelite.com to get started today.