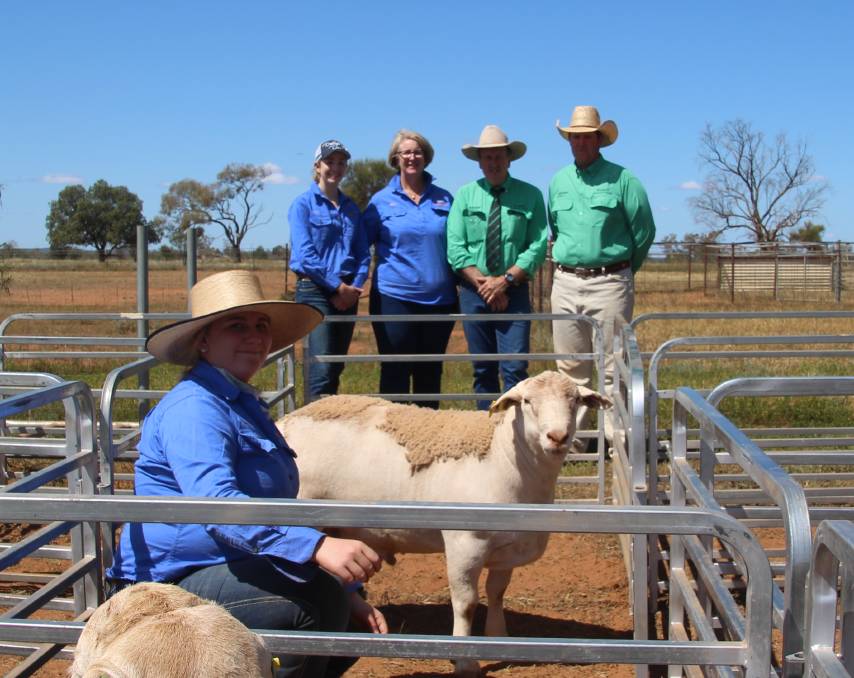 COMMERCIAL buyers showed confidence at the Etiwanda Rangeland Ready ram sale last Thursday where the stud's top average was smashed to a new record $3260.
The buyers gallery arrived at the Cobar-based stud to more grass than had been seen in many years, to vie for a draft of 87 rams that all sold by the last hammer drop.
A change from huge dust storms and bare ground in February to foot high rangeland grasses today had the buyers in a frenzy and the overall average up $1933 on the sale earlier this year.
The top priced ram was sold to Wayne and Karen Dingle of Boondarra White Dorpers, Mungallala, Queensland, for $5200.
He was a son of Etiwanda 160613 who had been used in the Etiwanda stud and also the MLA resource flock and was sold to a Western Australian stud after the February 2020 sale in a private treaty. He had good figures for muscle and fat and was a sound ram who was good on his feet with nice cover.
The top ram, Etiwanda 193068, was a twin with top five per cent figures for eye muscle depth and fat of the shedders database on Lambplan.
The Dingle family also took home Etiwanda 193066, who was in the to 20 per cent for weaning weight at 7.1 and post weaning weight of 11.5, for a draft average of $4600.
With COVID-19 travel restrictions, 56 registered bidders used the AuctionPlus platform.
There were 532 online bids with 15 rams bound for three different states including New South Wales, Queensland and South Australia.
It did not stop the many local buyers, a lot of repeat buyers and some new, to take home rams but some were not able to get their intended draft such was the competition.
Long term local buyers, Dominic and Jillian Prince, Lachlan Downs, Cobar collected six rams to a draft average of $2300.
The couple had been purchasing from the stud for 13 years knowing the sheep were bred in and for their area.
"It is always a bit of a guessing game when you come to any sale, it depends on the market and this was a very good market," Mrs Prince said.
"We are very happy with what we have got today. Their moto works for us."
Click here to read the full article by Lisa Duce for The Land.