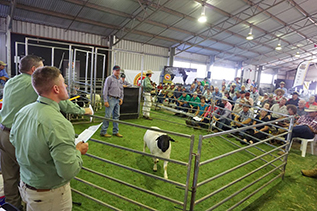 The annual DSSA National sale will be held 4th-5th September 2018 at Dubbo Showgrounds, NSW.
The DSSA would like to announce that sale entries are now open to all DSSA stud members.
Vendors will again have the choice of Landmark or Elders as their selling agent.
All animals will be registered with the DSSA and classed by Inspectors at the event. The classing and sale will be livestreamed and interfaced with AuctionsPlus.
Please email the DSSA Exeuctive Officer on dorpereo@abri.une.edu.au for a copy of the sales conditions and entry form. Entries must be received by no later than 9am Monday 9th July 2018.
If you are interested in sponsoring the event, please contact the office on 0267733805.
Visit the events page for more information.