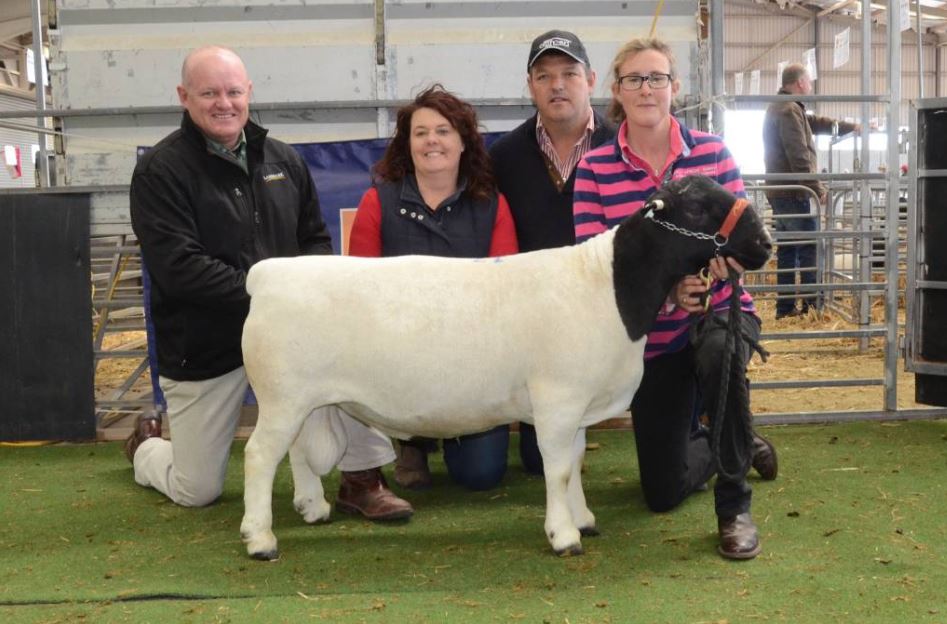 DORPER rams were in demand at the 2017 National Sale at Dubbo on Wednesday, September 6, when buyers from four states secured 68 of 72 offered topping at $11,500 and averaging $2393 effecting a 94 per cent auction clearance.
Entering the Dorper breed after some years of producing stud White Dorpers, Tanya and Brad Edson, Red Rock stud, Keith, South Australia, said they wanted to make sure their foundations were right.
To fit their requirements the couple paid the $11,500 top money for the 105.5 kilogram Type-5 Dell Dip Stick, the reserve junior champion of the 2016 National Dorper Show and one of four rams offered and sold for a $5625 average by the van Niekerk family's Dell Dorpers, Moama,
"We're new to breeding Dorpers so we want to get our foundations right," Mrs Edson said. "This ram has the length and depth of body, plus he's such a well-balance ram, that he'll fit our requirements very well."
Mr Edson said the ram also had a very good temperament and the perfect black head.
Dell co-principal, Andrea van Niekerk said the purchase confirmed Dell's breeding principals.
"This sale gives us the confidence in what we are breeding," she said. This ram's dam is Dell Baby Doll, the twice grand champion of the National Dorper Show and the sale backs up last year's Dubbo National success when the stud sold the $15,000 second top-priced ram to Western Australia.
Click Here to read the full story by Mark Griggs, The Land.