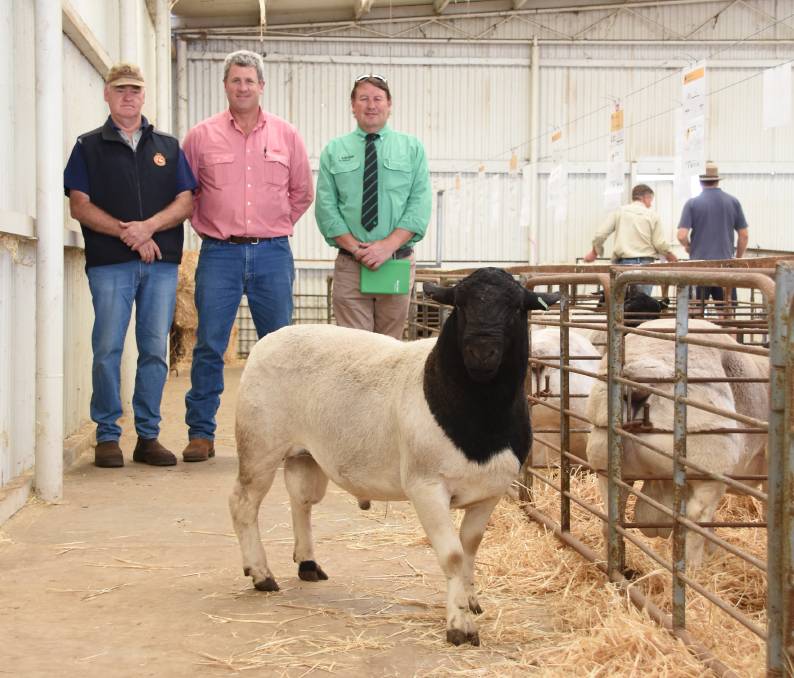 Story by Jodie Rintoul for the Farm Weekly.
STRONG buying support from the Eastern States, both on the phone and on AuctionsPlus, coupled with solid local enquiry were the key ingredients to the success of last week's Kaya Dorper and White Dorper Production Sale at Narrogin where prices hit a high of $5400 for a Dorper sire and $2025 for a Dorper ewe.
With stronger enquiry from the Eastern States compared to last year due to the better season, the Veitch family achieved a 100 per cent clearance across both the ram and ewe offerings, while the averages for both sections also increased on last year with the rams up $1011 and the ewes up $228.
The AuctionsPlus platform played a major role when it came to the Eastern States purchases in the sale conducted by Elders in conjunction with Nutrien Livestock, with the catalogue receiving 1550 views and 68 registered bidders logging into the sale from New South Wales, Victoria, Queensland, South Australia and WA.
All up there were 964 online bids placed across 131 lots on AuctionsPlus which resulted in 66 lots being purchased online that are now headed in the main to NSW, Queensland and Victoria while some will remain local.
In the ram offering all 89 rams sold for an average of $2109, while the ewe side of the sale saw the complete clearance of 65 ewes at an average of $646.
In comparison to last year's sale when the stud sold 88 rams from 93 offered at an average of $1098 and there were 53 stud ewes sold from 76 offered at an average of $418.
Elders auctioneer Nathan King said it was a very strong result for the Veitch family.
"There was solid support from across Australia on both the Dorper and White Dorper offerings on the back of better seasonal conditions in the Eastern States," Mr King said.
"The quality of both breeds through the rams and the ewes was fantastic and a credit to the Veitchs and their breeding program.
"The ewes sold well above expectations and the demand for them was certainly solid and consistent on the back of better interstate enquiry where the season is certainly better in the areas where they perform best."
Click here to read the full story by Jodie Rintoul for the Farm Weekly.