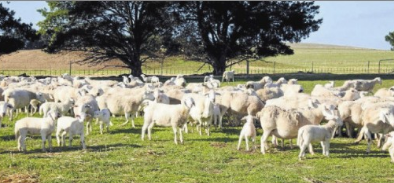 DESPITE not being a traditional Dorper environment, the robust breed is thriving in the wet, cold conditions of western Victoria, according to Willaura-based farm manager Marty Rodd, Kintan.
Mr Ross, who looks after a spread of properties for Melbourne-based businessman Max Morton and wife Dorothy, has been impressed with the Dorper's adaptability in a range of seasonal conditions.
"They have adapted well in the colder, wetter environment but when it's drier, they will also do really well and still raise a lamb," Mr Ross said.
The Morton family originally started with Wiltshire Horn shedding sheep and during the past 13 years have gradually build up to a pure bred White Dorper flock of about 2300 ewes.
The ewe flock is run across five properties which total 800 hectares.
"Max was looking for a sheep breed that was a bit different and after doing some research on Dorpers was impressed with their growth rates and carcase quality. He was also attracted to their easy-care attributes."
Click here to ready the full story by Kylie Nicholls for the DSSA liftout magazine.