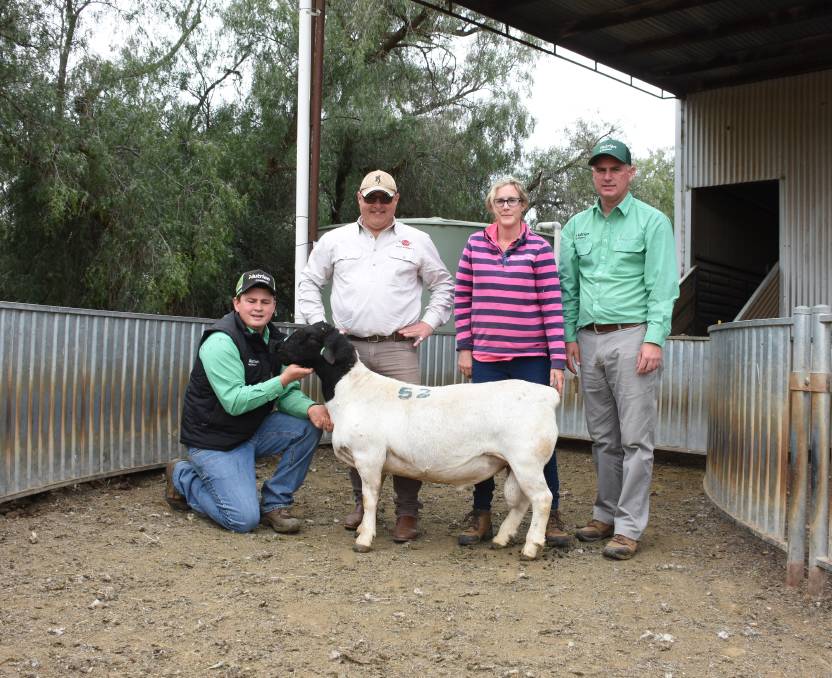 The hype around Dell African Dumisa Dorpers and White Dorpers was clear to see during their 9th annual on-property ram sale when all 106 rams sold for an overall sale average of $4054.
In the sale breakdown, 79 Dorper rams sold to a top of $15,000 to average $4092 while 27 White Dorpers sold to a top of $6500 to average $3944.
Just a few weeks after setting a world record for a $50,000 ram at Dubbo, the stud continued the pace on Tuesday.
This time the sale topper, Dell 190595, was purchased by Matt Wood, Khan Dorper stud, Goodooga, Cobar for $15,000.
The 15-month-old Doper ram weighed 99 kilograms and was sired by Dell Juggernaut 170743.
He had a weaning weight of 45.5 kilograms, post weaning weight of 80.5 kilograms a fat score of six and an eye muscle depth (EMD) of 44.
Buyer Matt Wood is no stranger to paying top dollar for Dell genetics.
He owns the full brother to the world record ram who he purchased in 2019.
This year he secured three rams to average $7750 with his top choice having exceptional length and structurally sound which he believed would add a lot to his stud.
"He has phenomenal growth numbers for a Dorper which is something we are really focusing on within the stud," he said.
"We also purchased another two rams overall chasing rams that were tall, large frame rams with a extra leg that walk out nicely."
The second top price ram, Dell 190213, a son of Dell Full Throttle 170388, was purchased by Benson Dorpers, Walcha for $8500.
Benson Dorpers also purchased another ram in Dell 190719, sired by Dell Legend 140472, for $5250.
Click here to read the full story by Shantelle Lord for The Land.