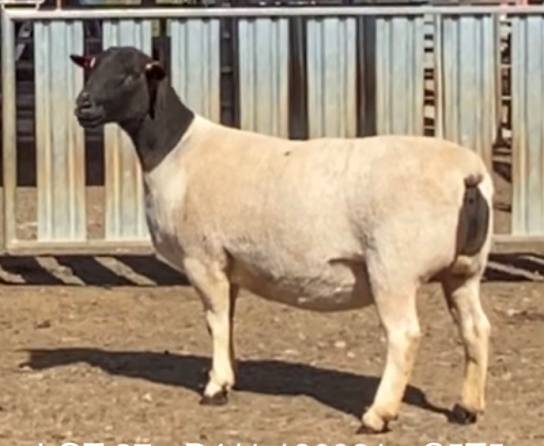 The first exclusive online ewe sale on the account of the Van Niekerk and Vagg families, Dell African Dumisa Dorper and White Dorper stud, Moama, saw all the ewes cleared in high demand on AuctionsPlus on Monday night.
All 60 ewes sold to a top of $4700 to average $1862.
In the breakdown 37 Dorpers sold to a top of $4700 to average $2178 and 23 White Dorpers topped at $2100 to average $1352.
The top price Dorper ewe was Dell 180981, a daughter of the popular Dell Jackpot 160906 sire, from the Dell Gloria line and was scanned in lamb to Dell Juggernaught 170743. She was purchased by Marcus Ryan, Amherst Dorpers, Amherest.
The ewe goes back to the well known Jackpot sire which was a standout to Mr Ryan.
"She was a lovely feminine ewe with a heap of meat and stunning wedge shape," he said.
"Throughout our ewe selection we chased ewes that had great quality sires and dams lines to be able to get great breeding stock within the herd."
The second top price ewe was another Dorper ewe this time in Dell 181152, a Dell Jackpot 160906 daughter and was purchased by Matt Wood, Khan Dorper stud, Goodooga, for $4200.
Click here to read the full story by Shantelle Lord for The Land.