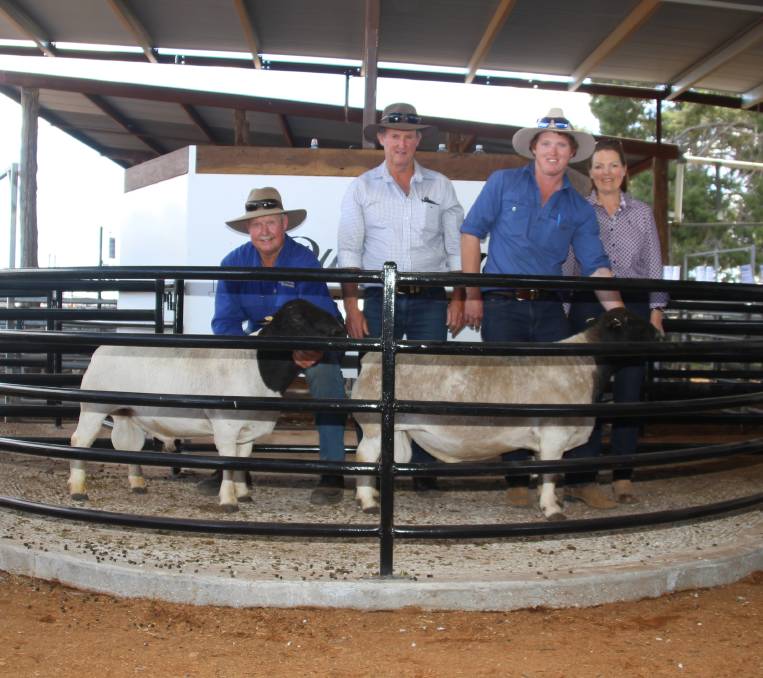 WITH records tumbling at most sales this season, the 16th annual on-property sale for the Burrawang Dorper and White Dorper team at Ootha was no exception.
Offering 144 Dorper and White Dorpers, there was a 100 per cent clearance on Monday.
In the breakdown, 96 Dorpers were offered to a stud top of $26,000 and averaged $5136 while 48 White Dorpers offered to another stud top of $24,500 and averaged $5352, believed to be an on-property breed average record.
There were 57 registered bidders on-site and 46 online giving the auction a feel of urgency to get the right ram for purpose.
The top priced ram, Burrawang 6Gun, a three-year-old, 108 kilogram son of Burrawang Old Mate, was considered one of the top breeding rams in Australia, with good feet and strong hocks. He was a type five twin with an eye muscle depth (EMD) of 46 millimetres and fat of 10 millimetres.
Six of his offspring were also offered in the sale for a draft average of $5167.
He was purchased by Mark Cullinan, Keeleen Dorper stud, Wentworth who was hoping the ram would push their stud of about 7000 ewes to the next level.
"We have bought here about five years ago and can see the improvement in our flock so we have come back," he said.
"The evenness right through the sale was great. Over the number of rams here they have a very even standard right through and hopefully will throw through to ours too."
Click here to read the full story by Lisa Duce for The Land.