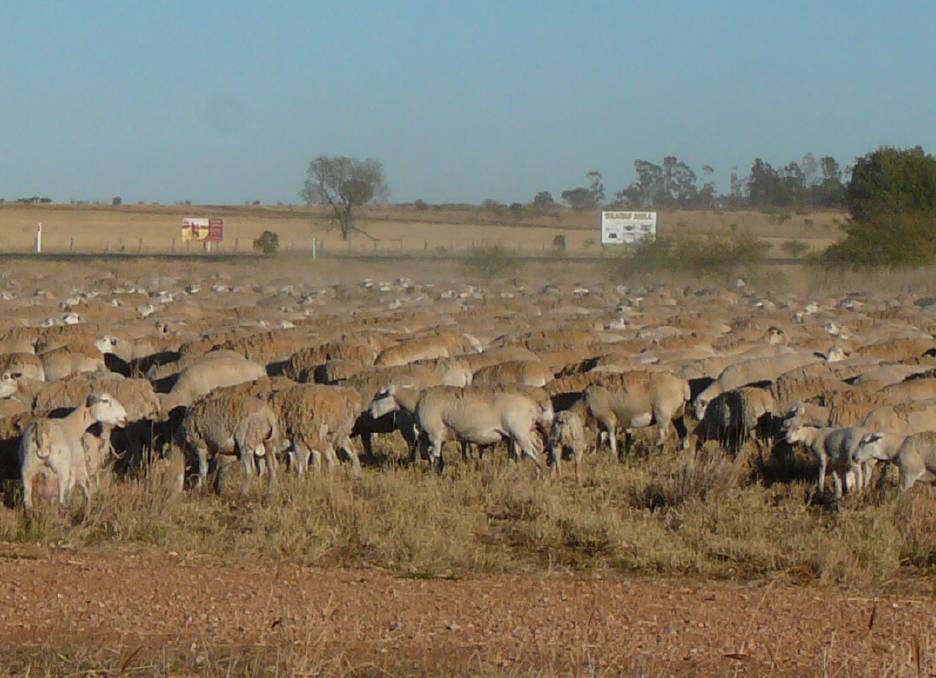 It's not often you see a mob of sheep moving through Queensland with a drover, but for Broken Hill producer Michael Anderson it's a vital step to keep his White Dorper operation going through the drought.
Cymbric Vale Station, 180km north east of Broken Hill, has been pushed to the wall due to a severe lack of rainfall.
"It pretty much stopped raining in October 2016," he said.
Since then the property's largest falls have been 30mm over three days in March 2017, 21mm on Easter Sunday this year and 16mm on May 2.
In November 2017 he bought a 113ha former dairy farm on South Australia's Fleurieu Peninsula to accommodate his flock but after a tough winter in 2018 feeding sheep, he knew he needed a different plan for 2019.
"Obviously I had been watching the weather reports and once there were some falls in this area, I put our applications in," he said.
Mr Anderson trucked a mob of 2500 sheep up to Charleville about a month ago and plans to stay on the road until about September.
The mob is made up of 2100 ewes, with the rest weaners.
"I'm chasing up any lead I can find on agistment," he said.
"If we don't get these sheep through, we'll be in a pretty tough spot."
Meanwhile Mr Anderson's wife Britt and two daughters, Lillian,10, and Ivy, 8, remain at Cymbric Vale Station, looking after 1100 ewes.
Mr Anderson said the ongoing drought has decimated his lambing percentages and now it's just a matter of keeping the flock going until conditions improve.
The operation joins about 4500 ewes in an average season, resulting in roughly 6000 lambs.
"We reared about 2500 lambs last year but we basically had to sell all of them as stores," Mr Anderson said.
This year he expects to perhaps rear 300 lambs.
Click here to read the full story by Victoria Nugent for the Queensland Country Life.