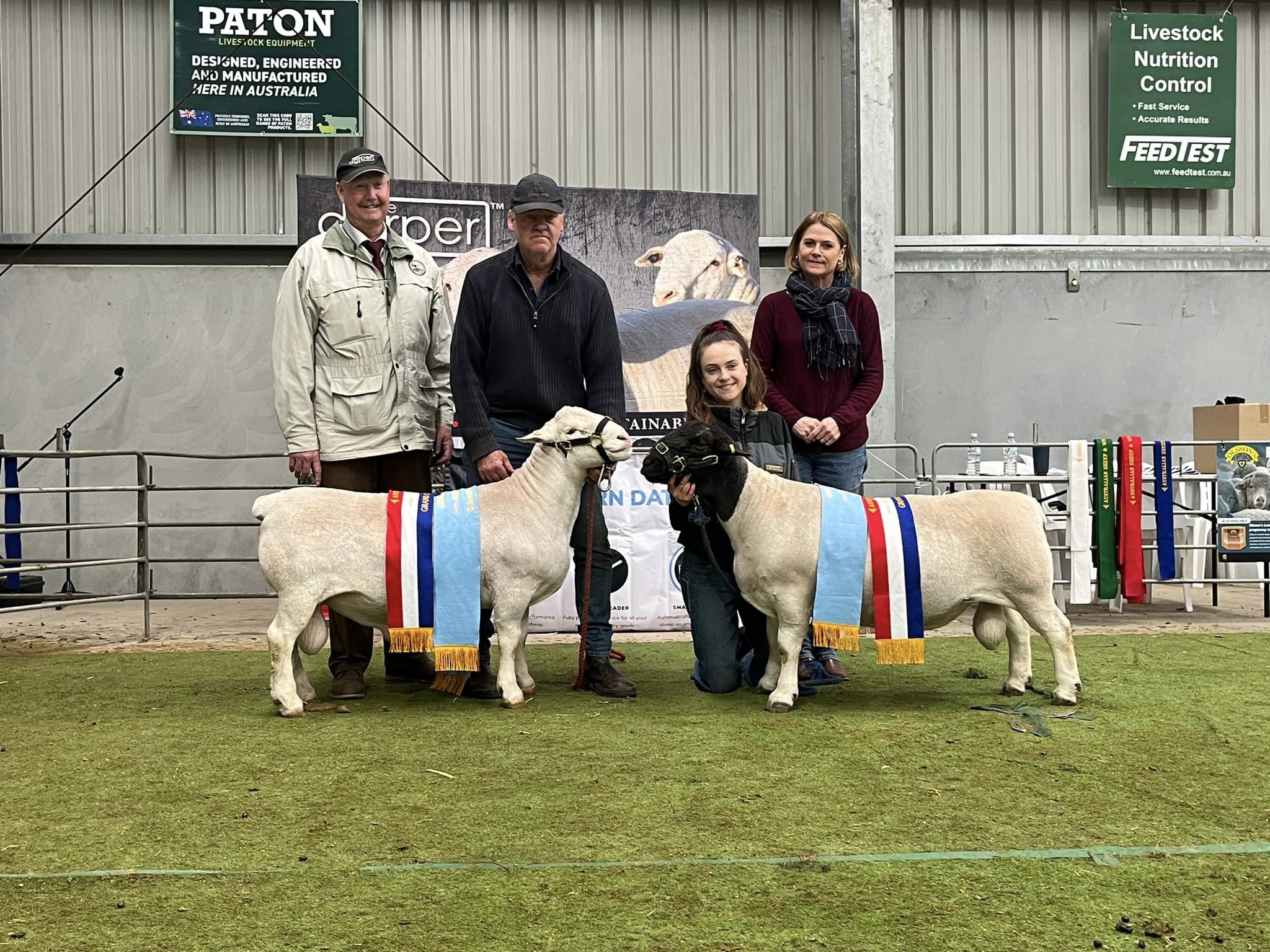 The 2023 BreedELITE DSSA National Show and Southern Region Sale, held in conjunction with the Australian Sheep and Wool Show, took place over three exciting days on Friday 14th, Saturday 15th and Sunday 16th July. This event brought together some of the finest breeders and exhibitors of Dorper and White Dorper sheep from all around the country.
The event kicked off with the classing of sale animals held on Friday morning, where sheep were assessed by DSSA Inspector Wicus Cronje to ensure they meet the breed standard. The classing was viewed by show attendees and was livestreamed to the society's Facebook page for viewers to watch live from home.
The National Show featured Judge Wicus Cronje, who presided over the Dorper and White Dorper show classes on Friday and Saturday. Wicus also participated alongside a panel of judges for the Interbreed Show Classes held on Sunday. Congratulations to Dell Dorpers on winning the Interbreed Supreme Australian Cleanskin Group Class.
The results of the National Show showcased the exceptional quality and breeding excellence among all exhibitors. Kaya Dorper showcased their high quality animals, winning the Grand Champion Dorper and White Dorper Ram, Senior Champion and Reserve for Dorper and White Dorper Ram, Junior Champion and Reserve for Dorper and White Dorper Ram. Kaya also took our Junior Champion and Reserve White Dorper Ewe and Reserve Junior Champion Dorper Ewe. Dell Dorpers also demonstrated their exceptional animals, winning Grand Champion Dorper and White Dorper Ewe, Senior and Junior Champion Dorper Ewe, and Senior Champion and Reserve White Dorper Ewe. Most Successful Dorper Exhibitor for 2023, was awarded to Kaya Dorper and Most Successful White Dorper Exhibitor, awarded to Dell Dorpers. The National Show Dinner was held on Friday evening, where members and sponsors gathered in Bendigo for an enjoyable Social Evening.
CLICK HERE to download the full Show Results. Please note some animal idents have not yet been received.
CLICK HERE to view the gallery.
The annual Southern Region Sale took place on the Sunday, facilitated by an online auction via AuctionsPlus. The agent for the sale was Ryan Bajada from Elders Barnsdale, with the sale having a 90% clearance rate of the sale animals located at the showgrounds. Sale results as follow.
Kaya Dorpers Top Priced White Dorper Ram and Dorper Ram, with Kaya Dorper Ram selling to the highest price of $6,200 to J R Hepburn.
6 of 15 Dorper rams sold to $6200 (Lot 2 Kaya 210939to J R Hepburn), av $2533
4 of 9 White Dorper rams sold to $5200 (Lot 19 Kaya 210074 to D & K Teskera, Lot 20 211402 to PA & CG Larwood), av $3375
9 of 12 Dorper ewes sold to $1800 (Kaya 220077 to Amherst Dorpers), av $688
1 of 6 White Dorper ewes sold to $1000 (Kaya 220350 to D & K Teskera)
Sale Totals: Average sale price of $1,810.53 per head. 19 Lots Sold.
DSSA would like to thank our Naming Sponsor, BreedELITE for their ongoing support and to all the exhibitors, vendors and sponsors whose continuous support of our society ensures the success and growth of our society's events.
Featured image: Grand Champion White Dorper Ram and Supreme White Dorper Exhibit (210263), Grand Champion Dorper Ram and Supreme Dorper Exhibit (210898) with Judge Wicus Cronje, Stud Principle Adrian Veitch, Meaghan Veitch and Rose Veitch.
Article by DSSA EO.