Tucking into a succulent slow-roasted Dorper lamb and gravy roll has been a key factor in how Ben Sippel has marketed his Drover's Choice Saltbush Lamb brand.
He heads to about 30 regional events a year, from country shows through to four-wheel drive and camping events, selling lamb and gravy rolls to hungry crowds.
The rolls are a food item which has quickly become a thriving market while at the same time increasing recognition of Ben's Lamb brand.
"I started selling the lamb and gravy rolls to value-add to carryover stock of rolled shoulder roasts," Ben said.
"Now it's one of the most predominate products we sell."
Dorpers have long been the breed of choice for Ben and his father Andrew who farm at Narromine, New South Wales.
Ben said the breed's ease of management, very stocky, meaty carcase and good mothering ability were endearing factors.
"They have a wonderful constitution and the ability to fatten on dirt," he said.
While drought has cut numbers significantly, the Sippels continue to run 50 breeding ewes on their 24-hectare "East Block" which they run alongside a 4ha saltbush plant nursery.
The Sippels regularly attended Farmers' Markets in Dubbo, Orange, Bathurst, Sydney and Newcastle from 2007 to 2013 to establish recognition for their lamb brand, before making the switch to online sales and a food van.
Online purchases are delivered to the door of customers.
"Online selling is proving far more efficient," Ben said.
"We have an established customer base from the markets and direct people to order through our website.
"Even though it's been quite a while, we still get a lot of people at the events who remember our lamb and buy it online.".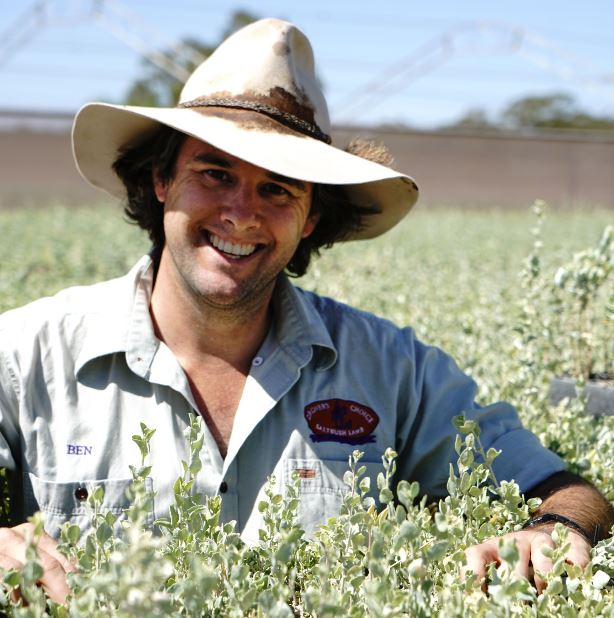 Drover's Choice Saltbush Lamb was established after Andrew was given a Meat & Livestock Australia grant to help develop a branded meat product.
Customers can purchase a full lamb, half lamb or a smaller lamb pack. Most recently, Ben has brought out a lamb and gravy bag which replicates his well-known slow roasted lamb and gravy roll.
"Value-adding to the lamb we sell is definitely something I'd like to focus on more," Ben said.
"Currently all sales are purely online, but we are looking at the possibility of selling through a butcher shop in Orange in the future.
Ben works alongside six other producers to ensure he has a constant supply of lamb throughout the year.
But recent droughts have cut production back significantly, with many of the producers destocking due to the dry and current high lamb prices.
There are currently 20 lambs processed under the Drover's Choice Saltbush Lamb brand every three-months in Canowindra and butchered in Orange.
While Ben admits the current drought has been a set-back, he remains positive about the future of the enterprise, with saltbush helping to drought-proof their flock and reduce feed costs.
"It costs about $380 to plant an acre of saltbush versus current prices of $400 a tonne of grain, then feeding out about 600 grams per head per day to sheep, which is equivalent to about one tonne of grain a day for 1600 sheep," he said.
"That small area of saltbush is about the equivalent to one tonne of feed, so the sums quickly add up. In five to six years it nearly pays for itself."
Click here to read the full article in the DSSA 2019 Annual Magazine.
(Advertisement below not linked to the story)