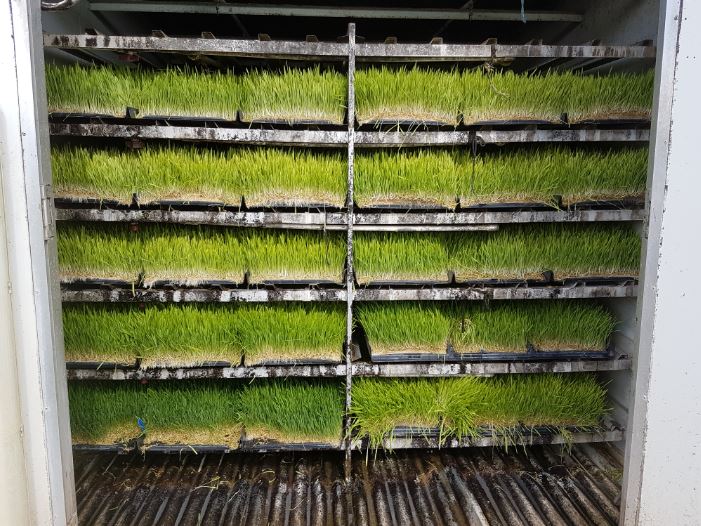 Investing in a barley shoot machine has ensured a reliable and inexpensive feed source for Ann and John Waters, who run a flock of 80 stud and 50 commercial White Dorper ewes at their Killara property at Wellcamp, just out of Toowoomba, Queensland.
For the past eight years the couple have fed out shoots to livestock run on their 17-hectare block.
"Without the shoots we would be running nowhere near as many Dorpers," Ann said.
"The ewes do really well on them and milk really well on it too.
"We're supposed to be retired but we will keep running the stud for now."
John formerly worked as a mail contractor with Australia Post while Ann worked at Greenridge Botanicals growing herbs.
They began breeding Dorpers 15 years ago after investing in six stud ewes and one ram, and were among the first few White Dorper studs to become established in Queensland.
"We haven't looked back since," Ann said.
"I grew up working on a Poll Hereford stud, which gave me some experience. Dorpers are only really little cattle, in terms of management, they're just a bit shorter in gestation length!"
Shoots are fed out about seven days after grain is spread on the trays, with Ann saying newer fodder sheds could now do a five-day rotation.
The flock is fed out once a day, with the barley shoots cut into smaller squares and thrown out onto kikuyu paddocks, where sheep are held.
"It's a little time consuming," Ann admitted.
"But feeding out anything is time consuming, so in the scheme of things it doesn't really take a significant time."
Barley is sourced for the year and stored on-farm in a silo, while the Waters also grow their own feed on a 2ha paddock of lucerne.
Feed costs have risen significantly in the past year, with Ann saying barley was "twice as dear" as they had ever paid, at $550 a tonne.
"With the drought in this region it's now been about three seasons since barley was last grown here," she said.
Ann said the way the shoot machine worked was simple.
"We put the seed trays in the back of the machine then once a day we pull a tray from the front," she said.
"It's a very simple process, we have 60 trays which produce 180 'biscuits' of shoots.
Click here to read the full story in the 2019 DSSA annual magazine.