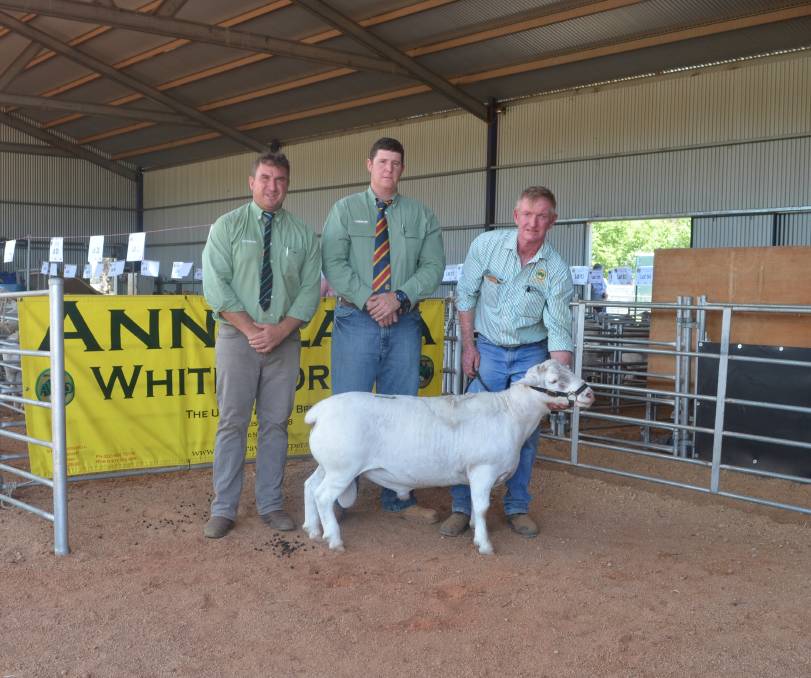 WHITE Dorper genetics from the Annalara stud at Dubbo will soon be bound for China after the top price ram at its annual sale on Wednesday was secured for a new export deal.
Having increased their offering for the second time in two years, the Cresswell family saw a top price of $4200, something not seen in many years for the stud.
Averaging $1028, this was softer than the previous years, although still healthy for the 138 rams offered.
Included in the draft of White Dorpers were 19 composite rams, known as Ultra Whites, that the stud had been refining over the past few years. They averaged $612 with a top price of $700.
A rapid volley of bids saw an August 2017 drop ram sell for $4200.
He was bound for APIAM Genetic Services at Deniliquin to enter quarantine before being used as a part of a genetics deal that would see his semen and embryos sent to China.
First time purchaser from the Annalara stud, Ian Kyle, Bairnsdale, Victoria, was the phone bidder who made the purchase on behalf of the consortium.
"Steve (Cresswell of Annalara) has a great reputation within the industry and a reliability of genetics," Mr Kyle said.
"The sire of this ram had a number of progeny in this sale and they are all great rams.
"He has good Lambplan figures and plenty of length, he should breed well."
Click here to read the full story by Lisa Duce for The Land.