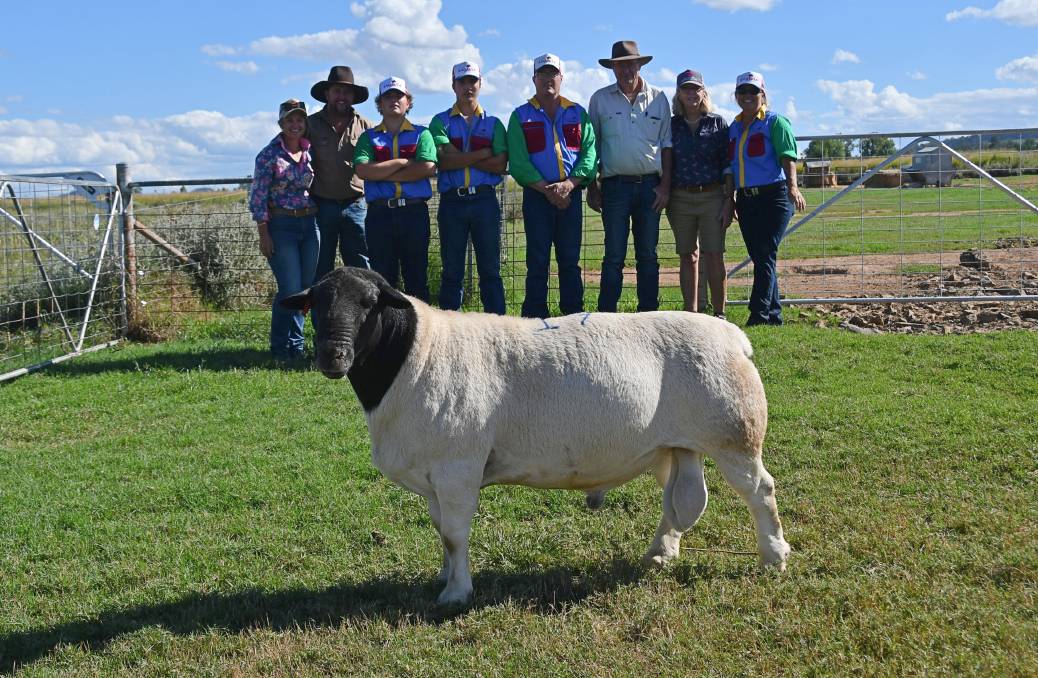 STRONG interest from interstate buyers has helped drive Amarula Dorper stud to a $40,000 top and a $5537 average at its annual on-property sale on Friday.
Beautiful sunshine greeted the more than 50 registered bidders that gathered at the Kirkby's Gravesend property Glenavon, while more than 60 followed the sale online via AuctionsPlus, in a bid to get their hands on the 148 Dorper and White Dorper rams and 40 ewes up for sale.
All 188 rams and ewes were sold during the live auction, grossing $898,500 at an average of $4779.
In the breakdown, 102 Dorper rams sold at an average of $5387 and reached a top of $40,000 for Amarula Flynn 187779, while 23 Dorper ewes sold at an average of $1956 and to a top of $3000 for Amarula 208768, which sold to the Southern family, Thallon, Queensland.
The top-selling ram was an August 2018-drop son of Whynot Dave 160128 and out of Amarula 165780, he was an elite stud sire, a conformation five, a type five, was rated in the 30 per cent of the lamb plan for birth weight and was purchased by the Palmer family, Semi-Arid Ag, Overnewton Station, Ivanhoe.
It was the second-consecutive year the Ivanhoe operation had purchased the top-price ram at Amarula, after taking home the $45,000 top last year, and buyer Bill Palmer said it was because of the stud's successful track record.
"We come up here every year and Amarula is the only bloodline we use," Mr Palmer said.
"Flynn is a proven sire and you only have to look at how many rams he had in the sale to see what he can do.
"These rams have been really well suited to our country and I have no doubt he will be no different."
Click here to read the full story by Billy Jupp for The Land.