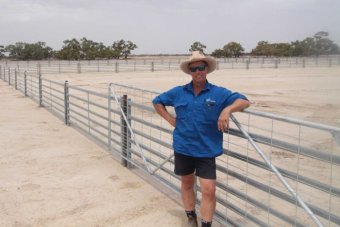 One of Australia's biggest agribusiness companies, Webster Limited, has bounced back from the closure of its cotton venture, using funds from the $78 million sale of its water entitlements to diversify.
Tandou Station, near Menindee in western New South Wales, will be turned into one of the biggest feedlots in the region.
Livestock from three properties will be shifted hundreds of kilometres across the outback, taking sheep from Kalabity Station in South Australia and Packsaddle Station in New South Wales to Tandou Station 50km south of Menindee, on the Darling River.
The general manager of Livestock for Webster, Paul Martin, said the decision would help breed healthier lambs during difficult times.
"There are considerable costs involved in building a structure like this," Mr Martin said.
"We've spent a lot of time on our genetics and we pride ourselves on the quality of the lamb that goes to market.
"The reality is if we were to restock when it does rain — if there are any dorper sheep available in Australia — they're going to come at a big price."
Click here to read the full story by Rhys Carman for ABC News.