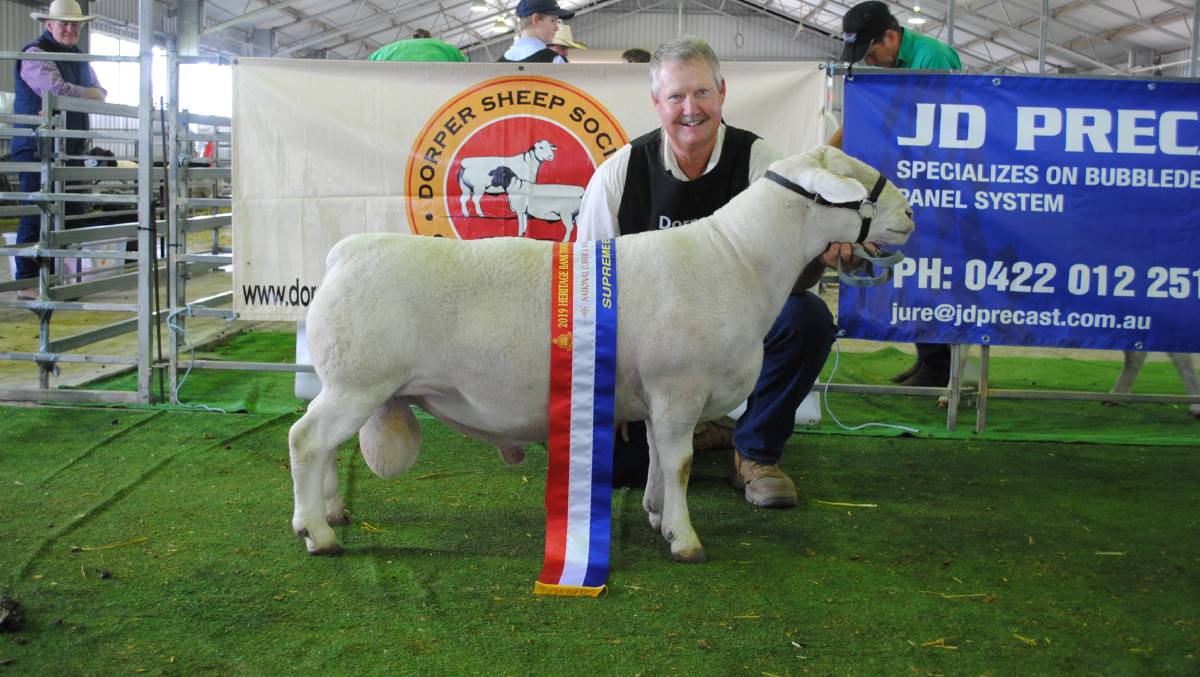 A White Dorper by the name of Piet has taken top honours in the National Dorper and White Dorper Show, held this year in conjunction with the Toowoomba Royal Show.
Burrawang Dorper and White Dorper Stud's star ram Piet was crowned supreme champion exhibit of the show, after first taking out the accolades for champion White Dorper exhibit and grand champion White Dorper ram.
Burrawang stud master Wicus Cronje said it was the first time in many years they had attended a show and they had brought 12 sheep up from Condoblin for the event, only three of which were put up for sale.
"We wanted to show the world what we've got," he said.
"There's a lot of good progeny on the ground from Piet already.
"He was born in 2015 and he's given us a lot in that time.
"He breeds exceptionally well."
But a second show outing for Piet shouldn't be expected any time soon, with Mr Cronje saying that the stud didn't have any further show plans for the immediate future.
"This is the national show, which is why we chose to come," he said.
It is the second year in a row that the National Dorper and White Dorper Show has been held in Toowoomba, with last year marking the first time the titles were held in Queensland.
Competitors traveled from as far afield as Western Australia, NSW and the Victorian border to put forward their best ewes, rams and lambs.
Dell Dorpers, Moama, also had plenty to celebrate, taking out the prizes for grand champion Dorper ewe, grand champion White Dorper ewe, grand champion Dorper ram and champion Dorper exhibit.
Stud owner Moozie van Niekerk said they were very happy with how their animals had placed.
"We're thrilled with that, it's probably the best results we've ever had.
"We're especially happy with our supreme Dorper exhibit being a ram.
"We've won it with ewes before but never with a ram.
"He's our main stud sire with lots of young progeny at home."
Nomuula Dorpers and White Dorpers took out the prizes for most successful Dorper and White Dorper exhibitor, as well as reserve grand champion for both the Dorper ewe and White Dorper ewe categories.
Meanwhile BaseCamp White Dorpers, Kogan, won reserve grand champion White Dorper ram.
Click here to read the full story by Victoria Nugent for the Queensland Country Life.