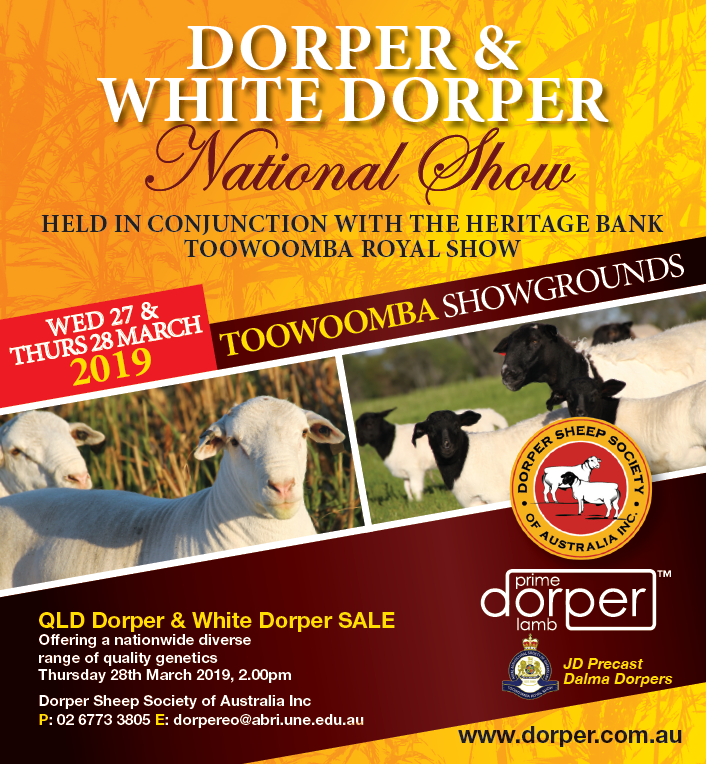 Event details
Wednesday | March 27, 2019 to Thursday | March 28, 2019
All Day
Toowoomba Showgrounds
02 6773 3805
The 2019 DSSA National Show will be held in conjunction with the Heritage Bank Toowoomba Royal Show, QLD.
Wednesday 27th – Thursday 28th March 2019. (Note the Queensland Region Sale will be held in conjunction with this event on Thursday 28th March)
Entries are now open. Please place your show entries through Showday Online. Click here to view the schedule.
A general outline of the show and sale is as follows:
Tuesday 26/03/19 All sheep to arrive into the Berghoffer Pavillion by 5.00pm
Wednesday 27/03/19 Sheep show will commence at 8.00am
5-6pm BBQ tea provided for all
6pm DSSA National Annual General Meeting
Thursday 28/03/19 Show and judging continues from 8.00am
1.00pm Show concludes
1.30pm Presentations
2.00pm Qld Regional Sale
4.00pm Show and Sale concludes
Branding and weighing of sale sheep will occur during Thursday morning or as advised on the day.
For further information, please contact Richard Knights Ph: 0428 257 367 E: rm.knights1@bigpond.com or Sara Winn Ph: 02 6773 3805 E: dorpereo@abri.une.edu.au
Click here to view images from 2018 National Show.
Sponsorship opportunities are now available, please contact Sara Winn if you are interested in becoming a sponsor.
Thank you to our sponsors –